7 Foods We WISH Were Served at Weddings
Step aside, chicken, meat, or fish! Here are seven foods we
so
wish were served at weddings. Any brave brides and grooms-to-be ready to step up to the plate?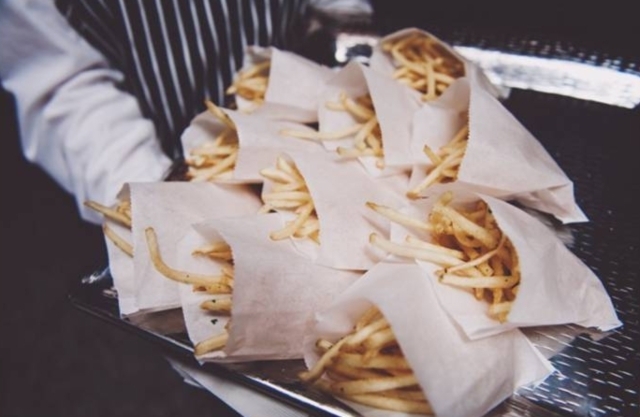 1. "Brinner." 
Yes, we're talking about good old breakfast for dinner. We'd so love to see a mean spread of waffles, pancakes, eggs, bacon, and sausage. Maybe top it off with a mimosa toast?
2. Pumpkin Spice Lattes.
How about trading the pre-ceremony lemon water for Pumpkin Spice Lattes? Imagine being greeted by a PSL (in a festive fall cup, of course) that you can sip on during the "I dos."
3. All the Bread. 
Can we please get a little carboloading going before hitting the dance floor? If we had it our way, the cocktail hour would feature a wide variety of breads (think focaccia, baguettes, ciabatta...) paired with flavored butters, olive oils, cheeses, meats, and spreads.
4. Pizza.
Here's how we picture it. Guests can choose between thin or thick crust, then pick their sauce, cheese, and toppings. Once they've placed their order, they can drink and dance away until their pies are ready!
5. Chipotle Burrito Bowls.
 Maybe they're the main meal? Maybe a little late night snack? We're just thinking you can't really go wrong with a bowl of Chipotle burrito goodness.
6. French Fries.
We're imagining single serve cones, and a buffet style bar with toppings like chili, cheese, and bacon. Your guests will be beyond grateful.
7. Cookie Cake.
 Trade in the traditional cake for the ooey gooey undercooked perfection that is cookie cake... We'll save room for seconds, thanks!
Want more food inspiration? Check out these posts:
8 Foods Your Guests Are Guaranteed to Love
15 Food Trucks You're Definitely Going to Want at Your Wedding
8 Foods Not to Serve at Your Wedding
Stories you might like