Ideas
5 Rosé-Themed Bachelorette Activities You Need to Plan Before Saying "I Do"
Discover, manage, and track all of your vendor communication, contracts, and timelines in one place.
The countdown to your big day is on, and before you say "I do," there's one last celebration that calls for sun-kissed shores, laughter, and, of course, a few glasses of
Fleur de Mer
rosé. Your beachside bachelorette bash promises to be a dreamy escape, surrounded by the love and laughter of your closest friends. We've curated the perfect suggestions to help you create an unforgettable bachelorette party - from a dreamy rosé beach picnic for brunch to a relaxing boat day out on the open waters. So grab your favorite sun hat and get ready to celebrate one last toast on the coast!
1.
Fabulous Poolside Cabana
Step into a world of oceanfront glamor as you and your besties kick off the bachelorette festivities in a fabulous poolside cabana overlooking the ocean. To really up your level of luxury and comfort, consider renting a cabana at a poolside resort or hotel that will provide plush lounge chairs, comfortable cushions, and elegant beach décor. Personalize the space with colorful beach towels, throw pillows, and perhaps even a customized beach banner with the bride-to-be's name. Set up a photo booth with themed props and backdrops for Instagram-worthy and memorable photo sessions and bring along some fun bachelorette party games to keep things interesting. To truly set the mood, don't forget to prepare a beautiful poolside bar cart covered in gorgeous floral decor with chilled bottled of rosé.
Treat you and your girls to a beach spa retreat that will leave you all feeling rejuvenated and ready for the big day. Begin this pampering paradise by choosing a beachfront spa with stunning ocean views to enhance the serene experience. Select spa packages that include rejuvenating treatments such as beach stone massages, sea salt scrubs, and invigorating facials to pamper every inch of your body. If you want to skip the spa water and upgrade for more of a lux offering with
Fleur de Mer rosé
, be sure to coordinate with your spa or bring your own. Before popping open your bottles for a toast to love and friendship, gift your girls soothing sachets of lavender to compliment the summery, soothing aroma of the rosé.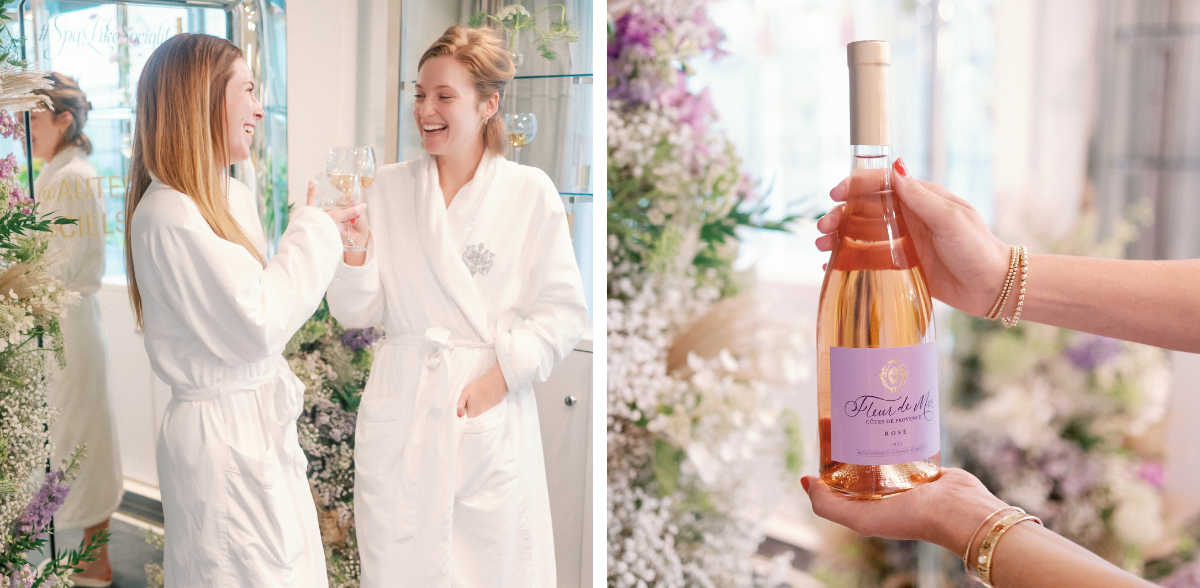 3.
Captivating Sunset Dinner
The magic of a beach sunset deserves a celebration of its own. Create an unforgettable ambiance by setting up a beautifully decorated beach dining area, complete with rustic lanterns, fairy lights, and elegant table settings. Elevate the space by using beach-inspired table runners or tropical floral centerpieces to add a touch of charm. To truly make this dinner special, nail the perfect pairings of food and wine as you build a menu that includes a mix of fresh seafood, salads, and delectable bites that perfectly complement the flavors of your rosé. If you'd rather skip out on the extra work, you can find a local event planner to help you decorate ahead of time ensuring an easy and seamless transition into your outdoor sunset dinner.
Celebrate your bachelorette party in style with a memorable boat day activity that combines relaxation, fun, and a touch of luxury. Start the day with a playful swim stop, encouraging everyone to dive into the crystal-clear waters and capture the moments with a disposable underwater camera for a fun and unique keepsake. If you and your girls aren't up for a swim, you can lounge on the deck, take photos, sip on some rosé, and enjoy the scenery around you. For some added fun while out on the water away from any crowds, you and your besties can sing karaoke to your favorite songs. Before heading back to shore, enjoy one last toast to the bride to savor the moment.
5.
Dreamy Rosé Beach Picnic
Who doesn't love a dreamy beach picnic? If you're looking to transform the sandy shores into your own magical paradise then consider setting up a cozy beach blanket or a low-rise table adorned with bohemian-style beach cushions for comfortable seating. Prepare a delightful spread of treats such as fresh fruits, artisanal cheeses, finger sandwiches, and gourmet snacks along with a selection of delectable desserts, like macarons and mini cupcakes, for that extra touch of indulgence. As you and your besties gather around the picnic, make sure to have a beautifully arranged display of rosé bottles with chilled glasses ready for pouring. For some added fun, encourage your girls to add fresh fruits to their beverages for a fun and personalized twist.
With the sound of the waves and the taste of 
Fleur de Mer rosé
 lingering on your lips, your beachside bachelorette bash will draw to an end, but the memories you will create during this love-filled getaway will be etched in your hearts forever. From the captivating sunset dinner with its breathtaking view to the cozy beach bonfire that will bring you all together under the stars, each moment will be an expression of love and cherished connections. As you prepare to say "I do," you will know that this seaside celebration will be a magical prelude to the journey ahead.
Make the Moment Fleurish with Fleur de Mer Rosé
Shop Now
Disclaimer: This article is sponsored by Fleur De Mer. While we adhere to strict editorial integrity, it is important to note that this is a paid partnership and this post may contain references to products from our partners at Fleur De Mer.