11 Date Night Ideas That Have NOTHING to Do with Wedding Planning
As excited as you are about your upcoming nuptials, wedding planning is a stressful process. With all the decisions to be made about flowers, invitations, and seating arrangements, it's easy to lose sight of why you're doing all this. It's important to take a break from the planning now and then to just enjoy each other and have fun! Here are 11 date night ideas to help reconnect in the midst of all the planning going on.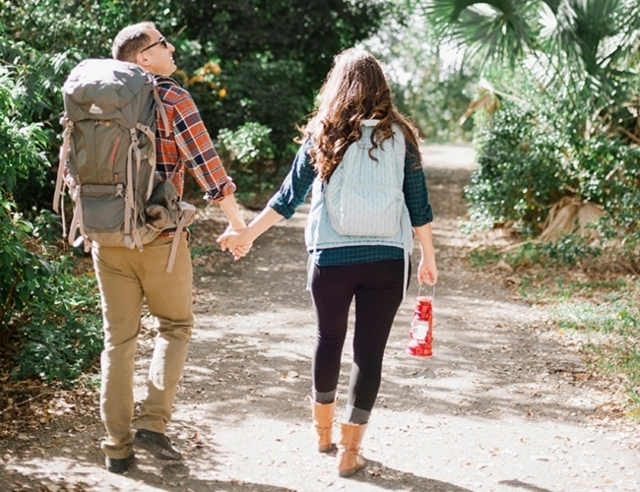 1. Drive-In Movies:
Are you and your beau movie buffs? Kick it old school at a drive-in movie! It's classic, it's romantic, and it's FUN.
2. Wine Tasting:
Find a local wine shop, winery, or wine bar, and treat yo self to some delicious vino. This interactive outing will certainly take the edge off after a long week!
3. Juggling Class:
Learning something new together is an exciting way to bond. Look for something fun like juggling! You'll laugh with each other, you'll laugh at each other, and you'll forget all about your wedding to-do list.
4. Couples Massage:
Let go of all the tension that's built up in your shoulders from all those stressful wedding-related decisions by indulging in a romantic couples massage together at a spa.
5. Barcade Night:
Embrace your inner child with a night out at a barcade (a bar arcade for those who don't know). Play some classic arcade games over some beers!
6. Planetarium:
Star-gazing is always a good choice when you need to unwind. Always.
7. Salsa Dancing:
Even if you aren't avid dancers, you're bound to have fun just moving to the music together. A salsa class will quickly melt away your wedding-related stress while heating things up between you and your beau.
8. Archery Class:
This is a great way to be sporty together and see how you'd make it as a couple in the Hunger Games...or definitely be thankful that you live in a city where delivery is available whenever your heart desires.
9. Improv Comedy:
Find a local improv comedy troupe and go see them play at a comedy club or theatre. You're guaranteed plenty of laughs...the cure for whatever ails you.
10. Apple Picking:
This wholesome date is a guaranteed good time. Plus, you can make cider, pie, and all sorts of deliciousness with your pickings!
11. Hiking:
Take advantage of the great outdoors before the cold weather hits! Find a local trail, pack a picnic, and take some time to just enjoy each other.
-- By Kayla Barr
Planning a wedding? Get your free 12-month wedding planning checklist.
More like this