Five Things to Know Before Making Your Wedding Album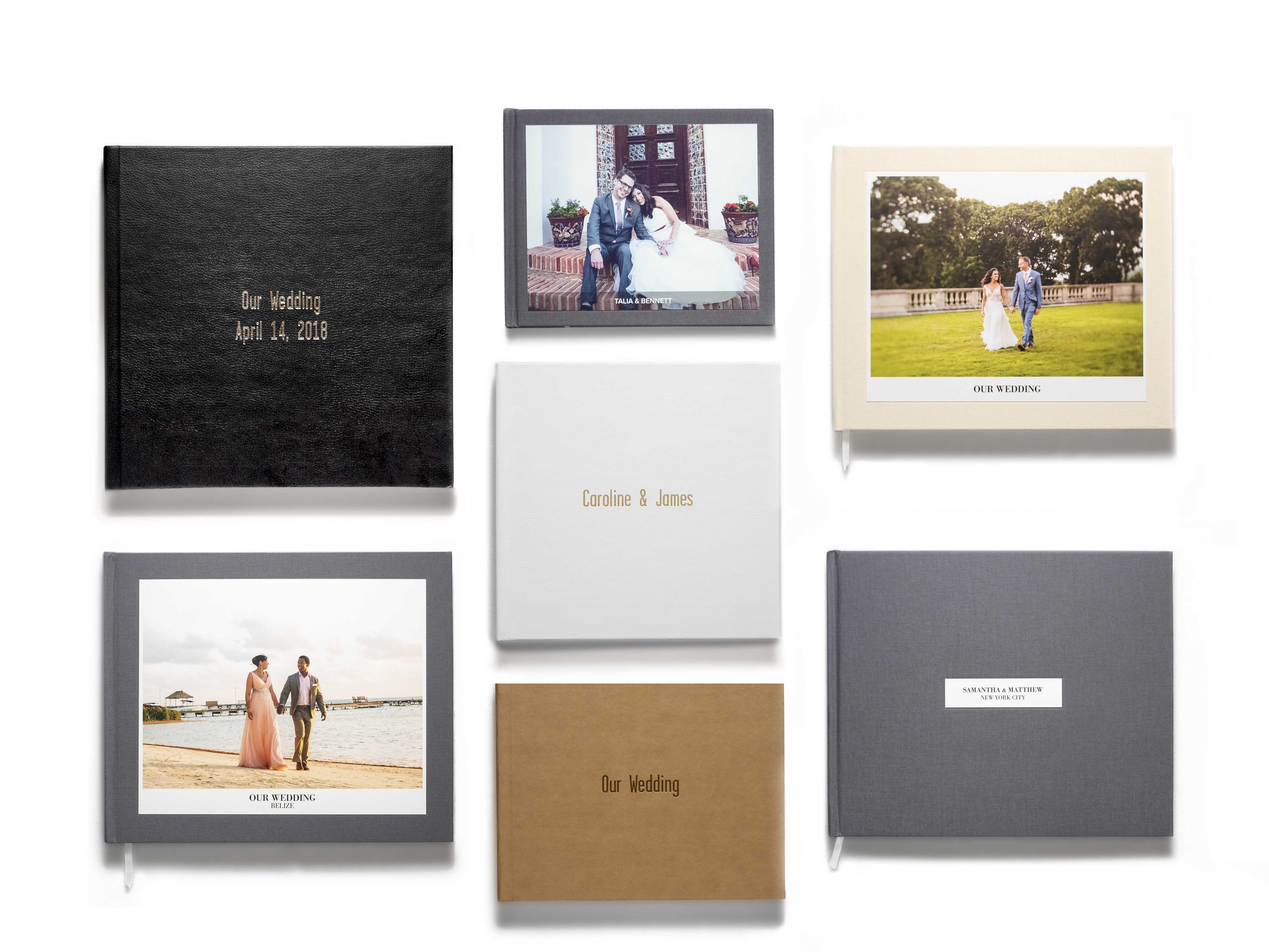 What's left after the vows have been declared, the toasts applauded, the knots tied? The wedding album! Other than the marriage, of course, the album is the biggest takeaway from the big event. We sat down with Julie Fajgenbaum, the expert behind professional album design service, Tweed Wolf, to find out how to make a wedding album you'll adore and the next generations will cherish forever. Read on for expert tips from Julie and the 
Tweed Wolf
 team. 
Who should you include in your wedding album? 
Think of your album as a historical record. You can pick your favorite photos to print or post on social media, but the album should include so much more. The details are key; you can include scans or images of invitations, programs, flowers, and all of the thoughtful accents that couples spend months curating. We love wedding albums that incorporate text to memorialize vows, readings, or speeches. If you have a great photo of a Father of the Bride toast, pairing that with the corresponding text will help capture the flow of the day and make the photos even more meaningful.
Also, make sure to include as many guests as possible! At Tweed Wolf, we call this "the Great Aunt Edith rule." Perhaps you don't have the best photo of Great Aunt Edith from the wedding, but she came! In 5, 10, or 50 years' time, you'll want to remember that she was there, and you won't even notice that the photo isn't perfect. At your wedding, you get to collect all the people you love, who love you, and who have been part of your life together in one place. Wherever you may go in life from there, you will be glad to have this record of who was there and how it felt. 
What should you avoid putting in your wedding album? 
The kryptonite of any album is repetition. I know the photographer took 12 pictures of the bride and groom with her parents. And another 12 of the bride and groom with his parents. And twelve variations on the bridesmaids. You should only put ONE of each of these in the album. Pick the one where the most people look the best and toss the rest. Highlighting the best one will make the whole 
wedding album
 more special. This will also give you more room for other photos, by the way - same people, more moments. Some of your best photos will be the candid, spontaneous shots from across the event and those will give you much more of a flavor of your day than endless permutations of the same staged photos. Think of it as the mullet strategy for photo albums - business in the front, party in the back.
 What if the wedding guests took some great photos, should these be included? 
Yes! But we recommend these two simple rules to our customers for including "crowd-sourced" photos in the album. First, no duplicates! If the photographer captured it with a professional photo, let that stand. Reserve your guests' photos for the truly unique moments they captured. Second, separate them! Nothing will make an iPhone photo look worse than being on a page with professionally shot, high resolution, perfectly edited photos. Earmark a couple of spreads at the end for the best guest shots (and, if applicable, photobooth photos). Think of these as fun moments like outtakes at the end of a movie. 
Is this all really necessary? Do we have to make a wedding album? 
If you're feeling overwhelmed by this task, you're not alone. That's why we started Tweed Wolf - because photo albums are the to-do-list item that never gets done. We exist to take all the work off the couple's hands. Our expert designers cull and edit the photos, lay out the album proof, and make any needed revisions. (Send us as many photos as you want! We're pros.) Then we send the draft back for approval and we go from there. You can be as hands-on or hands-off as you want. The goal is to save you the time and angst and decision-fatigue of the photo-sifting work and leave you with a beautiful record of your big day.
So why make a wedding album?
First, technology changes over time and books are forever. Some couples contact us who have a VHS tape of their wedding or even a CD-ROM with photos on it. With an album, you, your kids, and even your grandkids can page through your story, together. And of course, you're more likely to look at it than if you just have digital files stored in a folder somewhere. 
Final Thoughts: At the end of the day, your wedding will be a day filled with various emotions that you'll only experience once. Having those photos and videos are items that will encapsulate those memories and will help you reminisce on them any time you want. The album is a beautiful reminder of where this all started. 
Stories you might like