How-to
How to Throw a Bridal Brunch That Everyone Will Remember
Customize your own wedding checklist with due dates, personal reminders, and timelines for all your wedding to do's.
Summer and weddings go hand in hand. If you're looking to honor a special bride in your life this wedding season, glean inspiration from this beautiful bridal brunch designed by Charmean Neithart. The bride was having a difficult time deciding on a wedding china, so the bride's friends and family bought her a set, which Neithart used for the shower's tableware. See what other ideas she came up with that can help you throw your own memorable affair. Happy planning!
Photos by Charmean Neithart Interiors
Neithart threw the shower at the bride's home so the bride could have a vision for how to re-create the event for entertaining later on. The beautiful custom hand-painted Gracie Studio wallpaper served as her design inspiration for the party. START BROWSING:
Love This Vintage Look? See More Shabby Chic Decor Inspiration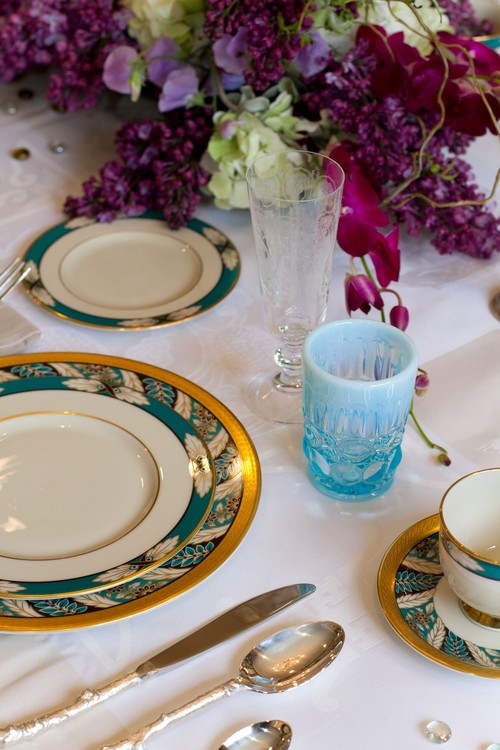 The designer played with the "Something old, something new, something borrowed, something blue" tradition for this shower. This china, a discontinued pattern from the '80s, found at Replacements was the "something old." The tablecloth, a new Le Jacquard Francais pattern, was the "something new."
Herbs and orange slices in a pretty punch bowl ensure that a simple drink takes on a festive feel. This is the designer's grandmother's Fostoria vintage punch bowl, for "something borrowed." Glasses from Anthropologie were "something blue." READ UP:
Try Teal for a Bold Spin-Off of "Something Blue"
Neithart chose flowers in complementary purples for a look the bride could easily replicate when having a dinner party of her own. Lilacs, plum roses, white hydrangeas, calla lilies, ivy, orchids and tulips make up this beautiful arrangement.
Tip:
Use orchids as table arrangements for long-lasting reminders of the special day.
Summer is our favorite time of year for meal planning, because it's so simple. Whatever is being grown locally is bound to be the freshest and most delicious thing available. Don't the greens look gorgeous? The berries and pomegranate seeds tie into the color scheme.
Tip:
Bite-size treats are perfect to encourage conversation as well as eating. Elegant macaroons are a colorful treat that add style and flair to an event. (These pastel beauties are available at Lette Macarons.) Neithart also chose bite-size cupcakes to complement the color scheme, with fresh fruit for those who wanted a healthier snack. These gorgeous, edible butterflies from Sugar Robot on Etsy were the designer's favorite part. A beautiful cake is a great way to end the day on a memorable note.
Baking charms into the cake and having each guest pull one to reveal her future is a fun bridal shower tradition. It may not accurately predict who will be the next to fall in love or have a baby, but gathering all the charms on one bracelet is a sentimental way for the bride to remember her special day.
Little things really show the bride you care. A photo of her with her groom, a special gift or a keepsake to commemorate the day and background music special to her are details she'll remember for a long time. GET INSPIRED:
Style an Accent Table With a Simply Elegant Vignette
At this brunch, even Bellini and Daisy — the couple's dogs — were included in the celebration.
- By Kristy Woodson Harvey and Beth Woodson,
Houzz
Read more now:
Dream Home Wishlist for Living Together in Harmony
12 Tips for an Easier, Happier Experience When Combining Households
How to Blend Your Styles and Decorate Your Home Together as a Couple