How-to
How to Make Your Proposal a Family Affair
If you're planning to pop the question this holiday season, you might find it challenging to steal your partner away for a private moment, given all the family gatherings and reunions with old friends. So, how are you supposed to get away without giving anything away? Put all those loved ones to work! Whether you want to turn a casual 
family Christmas card photo shoot
 into a marriage proposal or are hoping to plan an elaborate engagement 
for 17-months with all of your nearest and dearest
, here are five ways to include family in your proposal plan.
---
1. Involve them in the search for the ring

Get your partner's family in on the secret from the start by asking for their help in 
picking out the ring
. Siblings sometimes get an inside look into what the to-be-wed wants, so start by picking their brain. There may be a family heirloom that your partner wants to either get or emulate, so double check with the parents before purchasing something brand new. Suggest meeting over dinner or a quick drink to discuss the details.
---
2. Have them distract your partner while you set up

If you're spending the holidays with your partner's family, it may be hard for you to slip away to practice what you're going to say or arrange any necessary props. When you ask your soon-to-be in-laws for your partner's hand in marriage, let them in on the plan. Have her mom and sister take her out to get her nails done. Ask his dad to have him assist with a last-minute trip to the grocery store. It will give you a little space to breathe, which you'll probably need in order to collect your thoughts before popping the question!
---
3. Let them be part of the proposal

Remember this 
amazing live lip-dub proposal
? Take a cue from that video's story and get the family involved! Brothers, uncles, aunts, even your dog can play a part. Get creative (consider 
staging a flash mob
 or create a 
fake wedding
) and come up with something that will be extra meaningful for your love.
---
4. Make a film
If you're looking for a unique way to involve family and friends without actually telling them your master proposal plan, ask them to record a video of themselves filled with kind words, warm wishes, and sweet stories about the two of you. Edit them into a heartwarming short movie that ends with you asking for your partner's hand in marriage. It's a great way to have your cake and eat it too…you'll involve your loved ones without spilling the beans! Plus, it will make for a great momento that you both can enjoy for years to come.
---
5. Ask them to wait in the wings
Maybe you want more of an intimate environment to pop the question. So do your thing and have your partner's nearest and dearest hiding somewhere nearby. They could be hanging out in another room or back at your place. Either way, serve some snacks and some bubbly to keep your loved ones entertained while they wait for you…then raise a glass in celebration once you join the group! Make sure someone is ready to take photos of the event!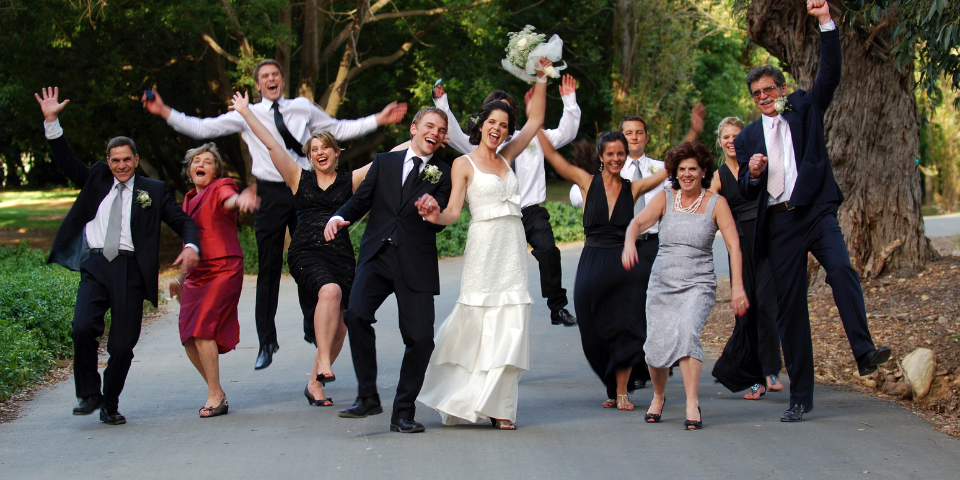 ---
6. Arrange for a celebratory post-proposal dinner

After you get the "yes," you're going to want to bask in the post-proposal glow. Whether you want to see everyone right after your proposal or want to wait a few days, find a night to celebrate with your closest family and friends. Make a reservation at your partner's favorite restaurant or ask your best friends to host a cocktail party in your honor. You'll both enjoy sharing the special moment with your family and friends…just be sure to leave some time for toasts to help kick off your engagement on the right note.