Better Bediquette: How To Share a Bed With Your Partner and Actually Sleep Well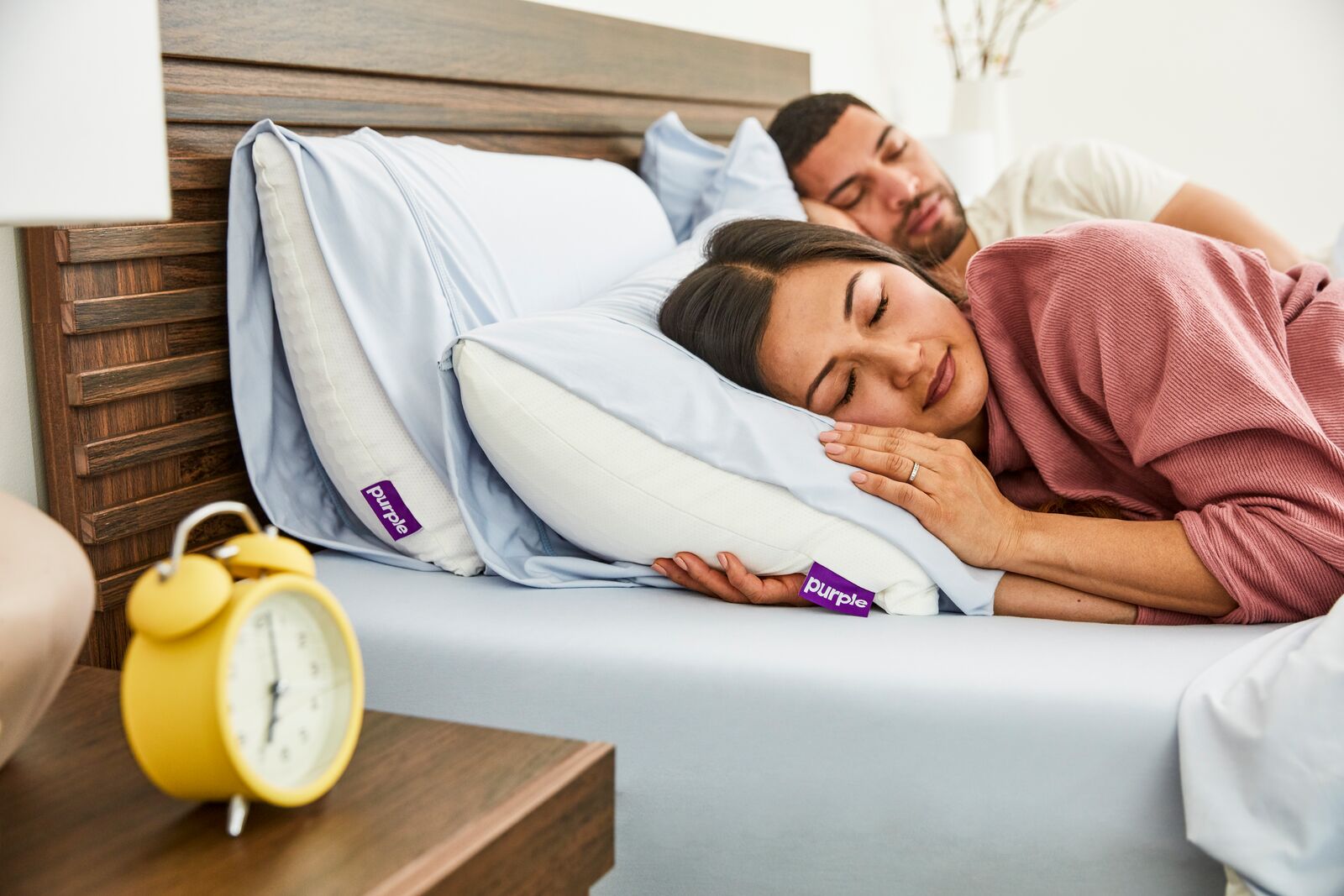 Depending on what your relationship history looks like, you may or may not be somewhat (or very) familiar with the concept of a sleepover… However, there's nothing that can prepare you for what marriage brings: a sleepover for life. But we're going to do our best to fill in the gaps so you can take on matrimony the right way—with a good night's sleep every night for the rest of your lives together!
The Secret Life of Sleep
1. Temperature
Quick Tip: Most of your core body temperature is released through your feet, so for a quick fix have the warm-sleeper wear socks to bed and the cool-sleeper leave their feet sticking out from under the covers.
2. Mattress Texture
Texture is probably the top considered quality when it comes to mattresses—firm vs soft, memory foam vs grid, pillow top or no pillow top—it's pretty much the go-to mattress trait when you're shopping around. But there's so much more to explore with all of the new, modern mattresses available today, so be sure to keep an open mind to options.
3. Noise/Snoring
4. Timing
Are you more of a night owl or an early bird? Chances are you already have some idea, but have you thought to ask your partner? Don't fret, even if you and your partner's timing might be off, there's still plenty of ways to make things work.
Quick Tip: Don't overthink trying to change your sleep habits altogether, that's ultimately going to leave one or both of you yawning all day long! Instead, sync up your nighttime routines with the early bird so you both get ready for bed together. When it's time for the early bird to go to sleep, the night owl can stay in bed on top of the covers at first for some pillow talk and then head back out of the bedroom until they're ready to sleep themselves.
How to Talk About Sleeping Together
As with most things in life, healthy communication is basically the key to solving all of your problems—go figure! So whatever concerns you and your partner may have, the first thing you need to think about is starting a dialogue.
If you're not sure where to start when it comes to talking it out, here are some helpful questions:
When do you usually like to go to bed? And does that change from weekday to weekend?
What does your "nighttime" routine look like when you're by yourself?
Do you have any activities you like to do in or before bed?
What kind of alarm do you like to use?
Do you care what side of the bed you sleep on? If so, which one?
Do you have any preferences for what can or cannot happen in bed?
Get your mind out of the gutter! We (mostly) mean eating, pets, outside clothes, etc.
Do you have any potential concerns to work through—snoring, sleepwalking, insomnia, etc?
With these guiding questions in mind and an open channel of communication, you and your boo are sure to succeed!
Mattresses Matter
When it comes to sleep, your mattress can be your best friend or your worst enemy. There's plenty of quick tips to make things work, but finding the perfect mattress for your marriage is really the ultimate move. Plus, it's never too late to add a little extra something special to your registry, right?
At the end of the day, no matter what you and your partner may be experiencing, you both love each other and will make things work. That said, we certainly hope these tips will help you figure it out, because investing in your sleep is always a good idea! You and your partner deserve to start your marriage off on the right foot, and that means starting off with a good night's sleep and many more to come after you say "I do."
We know you only deserve the best, that's why we only partner with brands we trust and love! This article may contain some affiliate links. This means that Loverly makes a small percentage of the profit generated from any sales, so we can keep doing what we do best: helping you plan your dream day.
Stories you might like