Cutest Ways To Customize Your Wedding Cocktails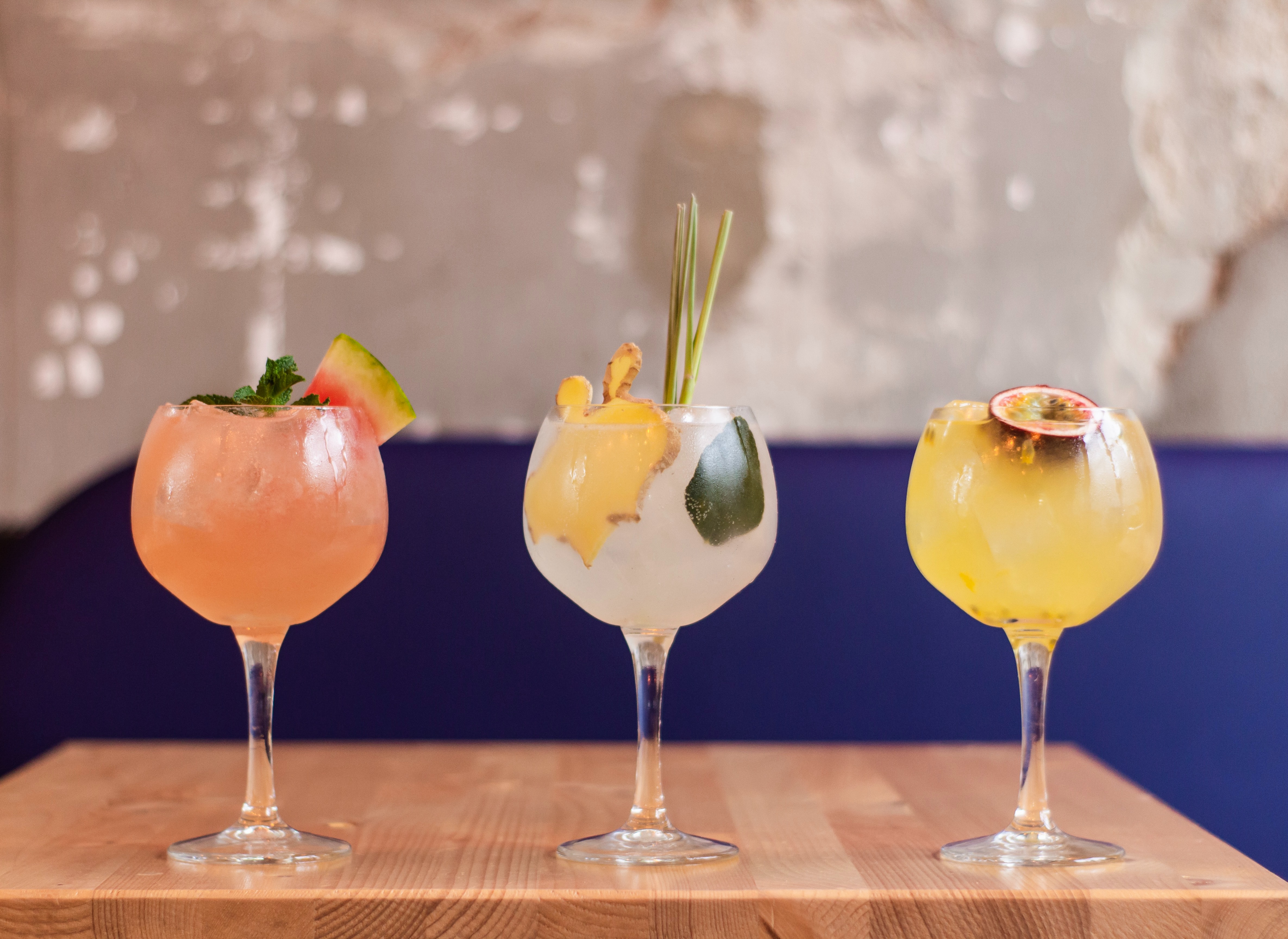 Custom wedding cocktails are the perfect way to tell your guests a special something about who you and your partner are as a couple... the perfect mix of ingredients! It's also a great conversation starter as guests mingle during cocktail hour while the "just married" pair are away during their portrait sesh.
Creative Director of 
Colette's Catering
, Sarah Kuhlberg says, "
Signature cocktails
 like a 'Hers, His & Ours would be a great way to tie in the couple's personality and style. It's all about personalizing from both the bride and/or groom's spirit perspective if you will. Plus, the guests will love it! Naming the cocktails after special places or moments that impacted the couple's relationship is also a wonderful thing to do as well. You can also color-theme your cocktails according to your wedding aesthetic." Injecting personal touches to your wedding day makes for a more intimate and entertaining experience for everyone involved, so how do we add that special twist to your cocktail list? We've turned to the best in the wedding biz to help us create the ultimate cocktail list that you and your wedding guests won't forget!
Start With The Spirits
The first step to customizing your wedding cocktails is to pick your poison! Think of which spirits you enjoy drinking and make them the base of your boozy beverages. And don't worry if you and your partner's preferences are on opposite ends of the spectrum. You can either practice the fine art of compromise to have two (or more!) 
signature cocktails
 to represent each of your unique tastes.
Stick To The Basics — But With A Twist! 
Instead of reinventing the wheel, put a creative spin on a tried-and-true cocktail recipe. For example, if you love a Moscow Mule, keep the vodka, ginger beer, and lime juice, but then add pineapple and cilantro sprigs for a tangy twist on an old favorite. Or, if you're more of an old fashioned type, try swapping out the sugar with a touch of maple syrup — still sweet, still classic, just with just an itty-bitty twist.
Location
For example, if you're getting married in Napa, opt for sangria made with wine from your favorite vineyard. If you're getting married in Annapolis, rim those Bloody Mary glasses with Old Bay. Or serve up Manhattans in NYC!
Season
Cinnamon stick stirrers can give fall or winter wedding cocktails a nice touch of cozy spice. Plus, it's an adorably rustic visual touch as well! Spring wedding cocktails can be topped with edible flowers if you really want you wedding to bloom. And, if you're feeling playful, a popsicle garnish is perfectly fun and refreshing for a summer treat.
Color
It's always fun to consider your color palette when choosing a signature wedding cocktail! Choose a vibrant cocktail made with a dash of Blue Curacao, use colorful garnishes, or glassware. Every aspect of your wedding right down to the drinks in your guests' hands can be suited to compliment your color scheme. Cheers to color coordinating!
Food Pairing
You can also use your dinner menu to determine the drinks. For example, a taco bar wouldn't be complete without margaritas, a sushi station would be taken to the next level with saketinis, and liquored-up lemonades would be perfect for a backyard barbecue! Signature cocktails are a great way to tie the theme of your menu together—and make the experience even more fun!
Feature Your Heritage 
Let's face it, the bar is one of the most popular elements of a wedding. It's a central gathering place that your guests will visit at least once (but more likelymultipletimes) throughout the night. Think of it as the modern-day watering hole. So, why not use it to highlight your heritage? Allow your guests to experience a part of your world and learn more about you. It'syourbig day after all! Whether that means having specialty cocktails with cultural flavors, colors related to your home-country, traditional toasts, floral garnishes with symbolic meaning, or even family photos on the menu, guests will get more than a drink when they saddle up to your bar.
Build A Wedding Cocktail Menu 
When building a wedding cocktail menu, we always recommend that couples start with what they like. After all, this day is about you! Begin by identifying your go-to drink, spirit, or flavor profile. Next, determine if you want to offer classic cocktails (like margaritas or old fashioneds) or something a little more personalized. Decide if you want cocktails that are perfectly paired with your food menu or feature seasonal ingredients (yes, you can have both). If you're still at a loss for what to serve, look for inspiration online or visit local bars to sample their signature cocktails. And finally, add a twist for your guests who are opting out on alcohol. Mocktails are equally as delicious, and can be dressed up with different flavors and garnishes!
Signature Cocktail Stations 
Wedding cocktail stations and interactive bars are a unique way to show off your signature drinks in style! Some fun ideas include a frozen bar featuring adult snow cones and slushies, a smoked bar for a campfire-inspired old fashioned, a "make your own" margarita or mojito bar where guests build and shake their cocktail with bartender guidance, or a spice bar that allows guests to create their own cocktail rim. Whether they stand alone or are paired with a traditional bar, cocktail stations are endlessly Instagrammable and offer another level of entertainment for your guests.
More like this