8 Apps & Websites to Help You Save Money on Your Wedding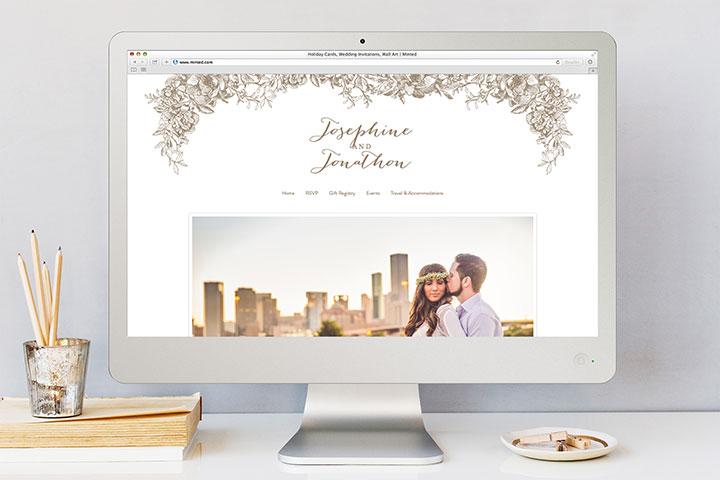 We know you techie, modern-day brides: You are scouring the internet for wedding inspiration all day long, you send pin boards to your wedding planners, and you're using a Google Spreadsheet to keep track of your RSVPs. You've probably browsed a few "top wedding planning app" articles, but did you know there are apps that can actually help you save money on your wedding? If you want to build a wedding website for free, save huge money on invitations or gather your guests' photos with ease, there's an app for that. Check out eight of our favorite budget-saving apps and websites that will make wedding planning a cinch.
Go uber-techie and send out electronic invites or save-the-dates! Paperless Post offers dozens of beautiful e-stationery suites to complement every wedding style, and even features a slew of invitations you can send for free. How's that for budget-saving?
Skip the DJ and fire up WeddingDJ, an app that makes streaming your own wedding music totally painless. WeddingDJ will walk you through each wedding event -- from pre-ceremony to the last dance -- and offer suggestions for great songs (you can also include your own selections). You can even take requests, crossfade tunes for a seamless dance floor experience, and change or delete songs from your playlists.
Using WedPics is like having your own personal Instagram hashtag, but sleeker and totally private. Create a free custom app and have your guests upload their photos and videos throughout the night. Then, view guests' contributions on the app or on the web, and add digital camera uploads after your wedding night.
Ask a video-savvy friend to download this free app and you can pretty much cross "hire videographer" off your wedding to-do list. OK, maybe that's a little ambitious, but with Cameo you can easily create and edit beautiful films on your phone. Add text and effects, edit clips together, and embed the finished product on your wedding website. Fabulously cheap and easy!
If you already live with your spouse-to-be and would prefer not to register for home goods, give Zola a spin. In additional to traditional registry, Zola helps you to register for honeymoon travel and activities, saving you money on your post-wedding vacation. The app is free and allows you to track who has contributed what and send out thank-you notes. Not to mention it's incredibly stylish!
Booking a hotel block can be a major to-do, but The Venue Report makes it much easier for you and your guests. Use it to book your stay for your wedding and your honeymoon travels! 8. Minted. Make your own free wedding website with Minted! There are many other website-building apps and sites out there, but this one is chic, easy to use, and costs nothing -- saving you much-needed cash. The best part? All Minted website designs have gorgeous matching suite of wedding invitations and stationery. 
Stories you might like