How to Transport Wedding Guests from One Place to the Next on the Big Day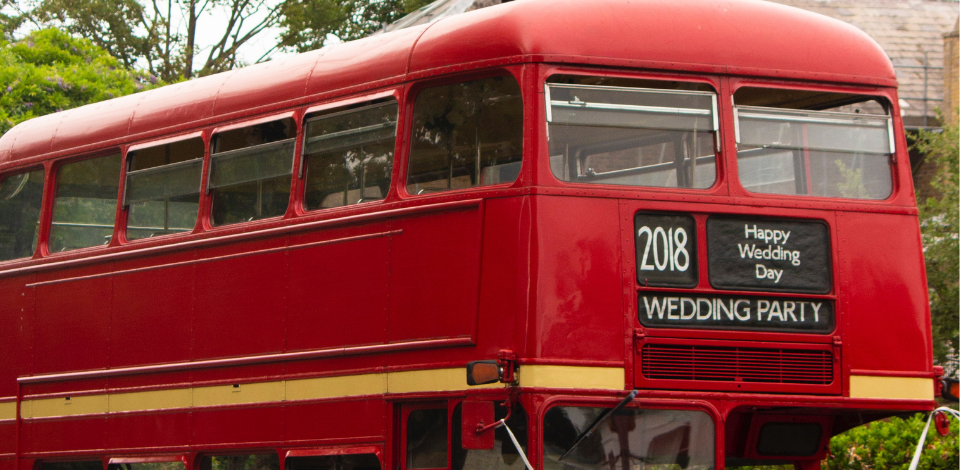 What's a wedding without the witnesses? Help your guests make it to all the day's events in one piece (and on time) with these ten transportation ideas!
1. School buses.
They may not be fancy, but school buses are definitely cute. Plus, they're usually pretty affordable (no school on the weekends...), and since they can fit a lot of people, they'll get the job done. 
2. Double-decker buses.
This option can be tons of fun if you're in a city that's known for its towering red buses. If you have time to kill between the ceremony and reception, the bus can take your guests on a tour of the city! 
Many hotels offer shuttle services for an additional cost when you set up guest accommodations with them. That's a super easy way to get guests straight to and from their hotel. Of course, you can hire private buses that aren't associated with a hotel, too. 
It's totally okay to let your guests drive to and from the venues. Just make sure they know they have to (and be sure to provide parking)! You don't want anyone stranded at the ceremony site while everyone else caravans off to the reception. 
If your accommodations, ceremony, and reception space are all close by — like at a resort or country club — you can absolutely ask guests to walk (although you may want to provide an alternative option, like a golf cart or car, for guests who may not be able to make the trek). Ask someone in your wedding party to lead the way so nobody gets lost. 
Led by a band If you want to make a big statement with your walk, have musicians — like a marching band, brass quintet, or mariachi band — lead the way to the next location. With guests following behind, it'll be like a little wedding parade, and will definitely set a fun mood!
7. Bikes.
While it might not be plausible to have a huge bicycle brigade, cycling might be a viable option for some weddings! If you're having a small event, make it work by borrowing or renting plenty of bikes or quadracycles (also known as pedal cars) and providing helmets. 
Not only do trolleys make for perfect photo opps, but they're also super functional — you can fit a ton of people on one, which means you won't need to splurge on a lot of smaller bus trips. 
9. A ride-sharing service.
Many of your guests have probably gotten used to using services like Lyft or Uber, so you can absolutely suggest this option on your wedding website. If you're up for it, you can use 
UberEVENTS
 to give guests a special promo code just for your event. 
10. Good old yellow taxis.
It's absolutely OK to suggest guests take taxis, especially if they're easy to track down near your venue. If you're in a big city, they can make for fun, iconic photo ops, too! Just be sure to provide phone numbers for local cab companies on your wedding website and somewhere at your reception. Remember, providing transportation for guests is definitely not required, but it's a nice gesture if you can fit it in your budget. 
Stories you might like