Guest Guide
Wedding Gift Ideas for Road Trippers
Customize your own wedding checklist with due dates, personal reminders, and timelines for all your wedding to do's.
Are you looking for the perfect wedding gift for a couple of road trippers? Look no further! We have compiled a list of the best wedding gifts to make sure that your favorite couple has an unforgettable journey. 
From personalized maps to car camping accessories, these gifts are sure to make their next road trip even more special. So, get ready to hit the open road with these amazing wedding gift ideas!
If you know a couple who's about to get hitched and here are wedding gift ideas for road trippers, here are a few suggestions:
Portable Espresso Maker 
A portable espresso maker is the perfect gift for any couple who loves to travel. Whether it's for a weekend away or a long road trip, this espresso maker will provide them with the opportunity to make their favorite coffee drinks whenever and wherever they go. It's small and lightweight, so it won't take up much space in the car, and it comes with all the necessary accessories. Plus, it's quick and easy to use, so they can have their coffee ready in no time. This is the perfect way for the couple to enjoy their favorite coffee drinks, even when they're away from home.
Personalized Travel Journal 
A travel journal is actually a very thoughtful gift for a couple who loves to document their travels. Not only will it serve as a lasting reminder of their road trip memories and experiences, but it can also be personalized to create a unique and meaningful gift. Consider adding a map of the couple's destination to the journal, along with some inspirational quotes that reflect their journey. You might also include a few blank pages in the journal so they can draw pictures or add their own notes. This thoughtful, customized gift will be something the couple will treasure for years to come!
Road Atlas 
A road atlas can be an invaluable item for couples who love to explore the open road. Not only will they be able to find their way through unfamiliar terrain, but they can also discover and explore new places they may never have known existed. A good road atlas will feature detailed maps of the local area, as well as landmarks, attractions, and other points of interest. It will also provide information on the best routes to take to get to those destinations, as well as the distance between each one. With a detailed road atlas, couples can plan their road trips with precision, while also expanding their knowledge of the area. Additionally, it can serve as a reference to compare routes and plan the quickest and most efficient path to take. A road atlas is a great gift for couples who enjoy road trips, as it will help them find their way and explore new areas along the way.
Personalized Luggage Tags 
 Not only are they a great way to add a personal touch to the couple's bags, but they can also help to identify their luggage in a crowded baggage claim area. Personalized luggage tags come in a variety of styles, colors, and materials, and they can be customized with initials, messages, images, and more. Whether you go for a classic leather luggage tag or a modern, vibrant plastic one, you'll be sure to find the perfect one to match the newlyweds' personalities. And if you're looking for an extra special touch, you can have them customized with engravings or monograms. 
Portable Bluetooth Speaker 
A portable Bluetooth speaker is a great choice for anyone who loves to travel - whether it's a road trip, camping, or a hike. Not only is it lightweight and easy to carry, but it also allows them to listen to their favorite music and podcasts while they're on the move. It's also great for outdoor activities, such as barbecues, beach trips or picnics, so they can keep their friends and family entertained with their favorite tunes. It's also great for those who are always on the go, as it's easy to take on planes, trains, and buses. And with its long battery life, it's sure to provide hours of music and entertainment. So whether they're on the road, in the wild, or simply out and about, a portable Bluetooth speaker makes the perfect gift for any traveler.
GoPro Camera 
A GoPro camera is the perfect gift for any couple who loves to explore the world. Not only can they capture beautiful photos and videos to commemorate their travels, they can also record their adventures in stunning 4K resolution. With GoPro's range of mounts and accessories, they can easily attach the camera to cars, motorcycles, boats, and even their own bodies for a truly unique perspective. Plus, with GoPro's array of editing tools, they can create amazing movies and slide shows to share with friends and family. With a GoPro camera, the possibilities are endless for couples who love to explore and capture the world's most beautiful sights.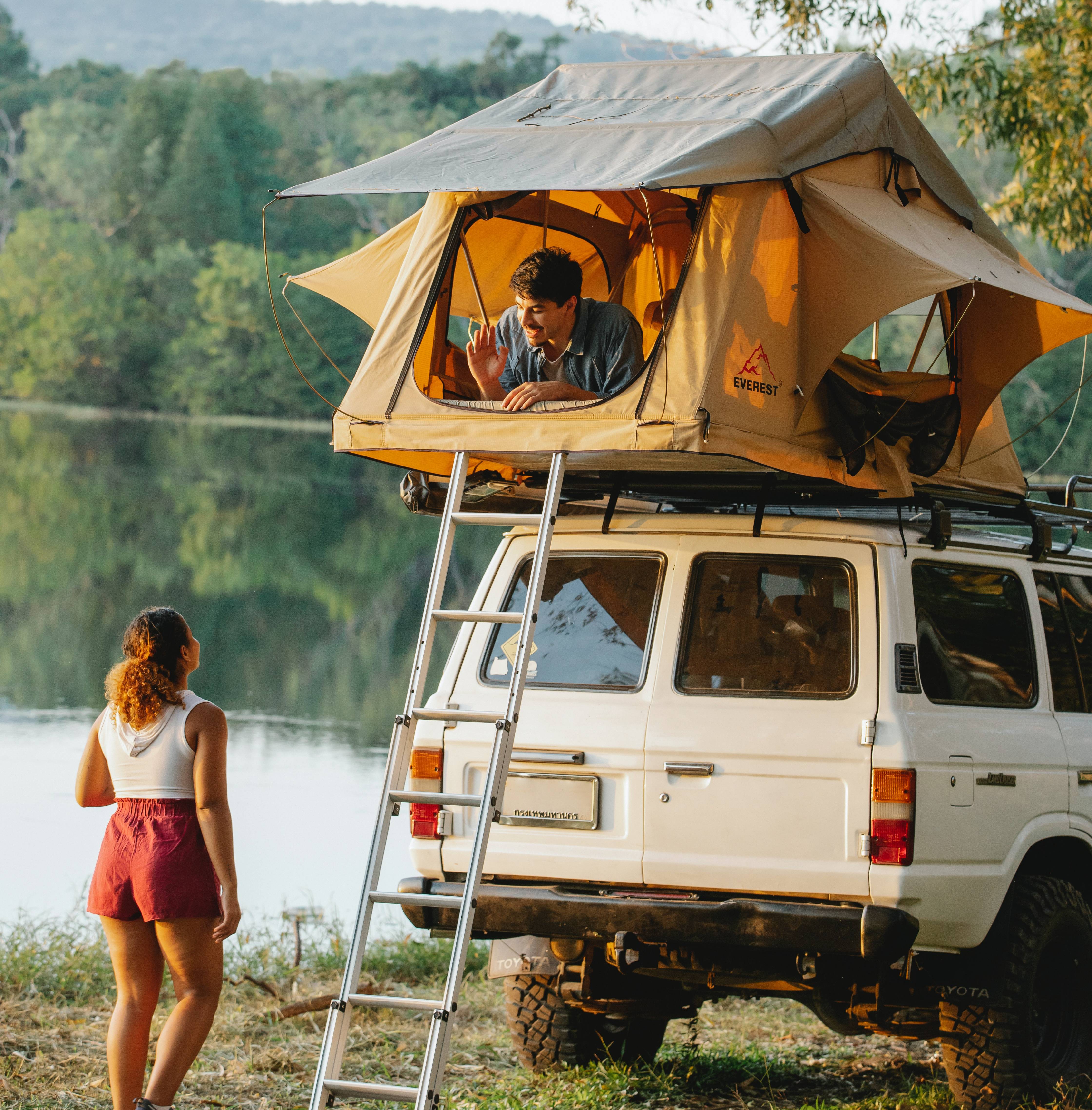 Camping Gear
Camping gear makes an excellent gift for couples who love to explore the great outdoors. Buy them a tent that is designed to withstand the elements, has plenty of room for two, and is easy to set up. Complement the tent with sleeping bags that are rated for temperature and provide plenty of warmth and comfort. Don't forget to include a portable camping stove or a propane stove so they can cook up a delicious meal while they're away from home. Add in some camping chairs, a cooler, and a few other camping essentials to make their gift complete. This will ensure that they have all the camping gear they need for their next outdoor adventure!
Car Organizer 
A car organizer is an essential item for any couple planning a road trip. It can provide a convenient and organized way to store the items necessary for a successful journey. Not only can it store snacks, drinks, maps, and other essentials, but it can also store other necessities, such as first aid supplies, extra clothing, and devices for navigation. Such an item can help ensure that the couple's car is neat and tidy throughout the entire trip and can help them stay organized and prepared for any unexpected occurrences. Having a car organizer can make the road trip a lot easier and less stressful, allowing the couple to enjoy the journey to the fullest.
Travel Pillow and Blanket Set 
A travel pillow and blanket set is a great way to make a long car ride more enjoyable and comfortable. The couple can use the pillow and blanket to nap during the day and snuggle up together at night while watching the stars. The pillow helps keep the neck supported, and the blanket is large enough for two people to share. It is machine washable, so it can be kept clean and fresh for each use. The couple can also use the blanket to keep warm on chilly nights, so they can enjoy the outdoors without getting too cold. The pillow and blanket set is also lightweight and easy to travel with, making it the perfect companion for any road trip.
Gift Card to a Gas Station 
Although not as cool or sexy as other gifts, A gift card to a gas station is a very useful present for those who love to hit the road. Not only will it provide a much-needed break from the stress of traveling, but it can also help to cover the costs of gas, food, drinks and other items they might need while they're out on the road. With a gift card to a gas station, they won't have to worry about running out of fuel or having to stop at an expensive store – they'll have access to a wide variety of items that may be essential to their journey. Plus, they can use it at any gas station across the country, so they can be sure to get what they need for their trip.