Looking for  cheap bachelorette party ideas? It feels like it happens every year as a millennial; you glance at your calendar at the beginning of the season and you realize your weekends are outright booked for the next three months. 
Weddings
, 
showers
, bachelorette parties, birthdays, and barbecues...all of that celebrating can really add up! In the spirit of keeping everyone and their wallet happy, we've got a few ideas to share for bachelorette bashing...
on a budget
.
1. Set the budget before you plan anything.
Before you send out that mass email (subject line: Bachelorette Weekend in Napa!!!) collect some info on how much the attendees are comfortable spending. We recommend creating an anonymous survey using a site like 
SurveyMonkey
 or 
Google Forms
. It's helpful to have a working budget before you get your heart set on any big ideas.
---
2. Keep it local.
If you're fortunate enough to have your best friends nearby, this one can be a no-brainer. Keeping your party closer to home base helps keep coordinating to a minimum, while also saving a few pennies. Consider a bar crawl through your home city, dinner at a hip new restaurant, or a spa day at the hotel down the street. Knowing your city inside and out can help to find the best deals, and make for a sentimental bach, while you and your besties (literally) walk down memory lane. If you can't think of anything to do, check deal sites like Groupon and Living Social for loads of entertainment in your own backyard.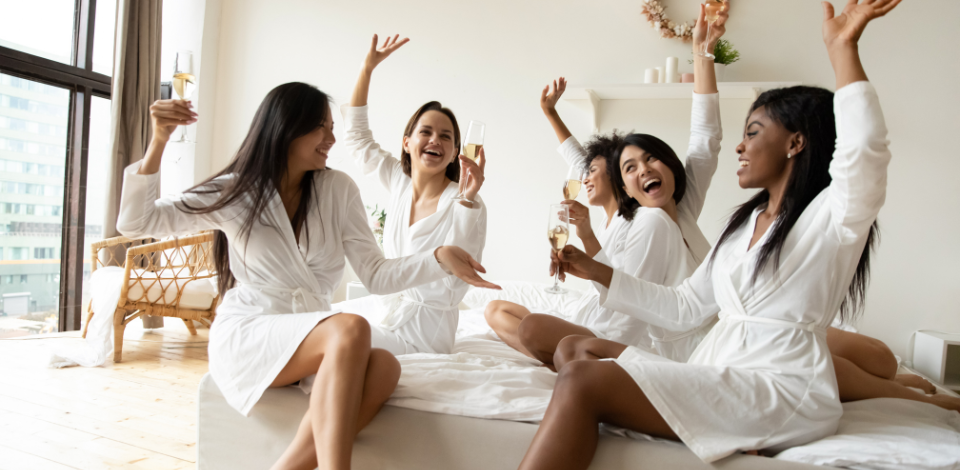 ---
3. Stay in.
Another popular idea for budgeting bridesmaids is to keep the party close to home...even if you have to travel to get there. Host a dinner party, wine tasting, or at-home spa night with your best girlfriends. If you aren't all from the same city or if no one has a place that can fit everyone, choose the best locale for most of the guests and split the cost of a rental home or cabin. Nothing like an old school sleepover party to bring out the nostalgia before a bride's big day. (Bonus: when the drinks start flowing, no one will have to worry about who's driving!)
---
4. Or, get outside!
For the outdoorsy bride, this can be a fantastic and frugal option. A weekend spent camping, hiking, and playing outside could be just what the doctor ordered for a stressed-out bridal party. Take some time off from focusing on hair, make up, dresses, and shoes to get outside with your friends and enjoy dressing down.
---
5. Game on.
Everybody likes a good game, and brides are no exception. Create a personalized scavenger hunt that takes you around your neighborhood, have an old-school board game tournament, quiz her on how well she knows her sweetie, or pour some martinis and play 
Cards Against Humanity
! The options are endless, and everyone can appreciate an evening of no-pressure fun.
---
6. One night only!
Many bridal parties are opting to extend the shindig over an entire weekend. But long days and nights of celebrating can be exhausting, and they are sure to become expensive. Limiting the festivities to a single day or one night will ensure that your party goes big and goes home before the bill really starts to add up.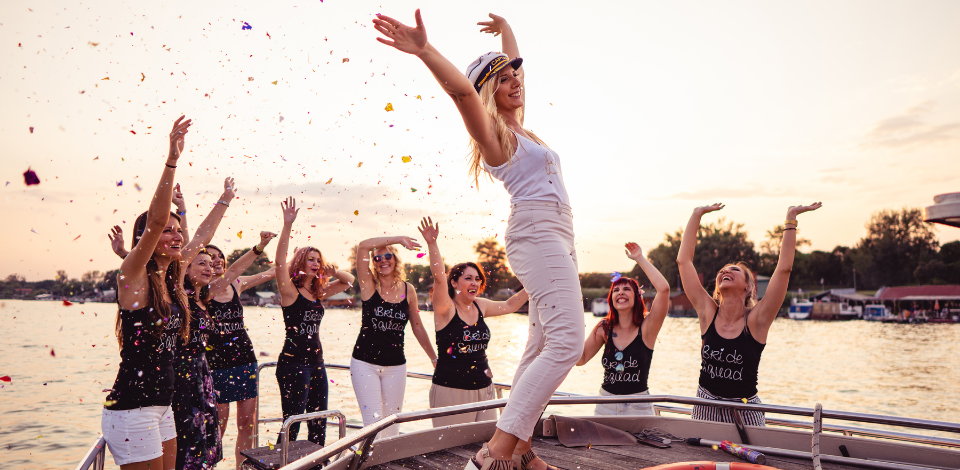 ---
7. Skip the add-ons and be considerate with gift suggestions.
There are so many adorable ways to personalize a bride's bachelorette party, but do you all really need matching T-shirts, flip-flops, and travel mugs? Does every guest really need to bring the bride an expensive lingerie set, or would she be just as happy with everyone chipping in to get something really nice from her registry? While these things may feel like must-haves, they aren't required; feel free to pare down and skip the pricey add-ons!
More like this