Photo by Jenny Smith and Co
Fashion
What Your Wedding Party Should Wear for Your Warm-Weather Wedding
Discover, manage, and track all of your vendor communication, contracts, and timelines in one place.
As the sun shines brightly and warm breezes sweep through the air, summer weddings offer a magical backdrop for exchanging vows. However, planning the perfect attire for a warm-weather celebration can be a challenge. To help you and your wedding party stay comfortable and stylish, we've gathered expert advice from top wedding professionals. From flowy dresses and lightweight fabrics to practical accessories, these tips will ensure that you and your loved ones stay cool and confident on your special day. 
Here is how to embrace the beauty of a summer wedding while effortlessly exuding comfort and grace, according to industry experts.
01
Opt for flowy summer dresses
"A flowy summer dress in a fabulous print or solid is a great warm weather option - scale your dress selection up or down to fit with the setting of the wedding. The beautiful flow of a summer dress allows you to decide the length - maxi or midi - because either way, you are staying cool. Shoes are also very important. Consider the terrain of the wedding and dress appropriately - wedges or sandals if you'll be on grass and/or with a lot of walking. I also love a pashmina to throw over your shoulders just in case." -
Elizabeth Lutz, Elizabeth Lutz Boutique Design & Event Planning
02
Lighter colors are key!
An easy choice for your menswear is to aim for lighter colors to keep you a bit cooler in the sun. Tan and beige shades are great for a more casual wedding, while we love a light blue or gray for a more sophisticated look. The bonus is that these lighter shades typically work well for a warm-weather wedding color palette anyways, giving you an effortlessly cool look for your big day. Thankfully, Generation Tux's suits and tuxedos are constructed with Super 130's and 140's Merino Wool and equipped with features like Coolmax moisture wicking fabric, so you'll stay cool in any look you choose." -
Jason Jackson, President & COO,
Generation Tux
03
Choose lightweight fabrics
"Warm weather weddings typically mean beautiful outdoor celebrations, so when it comes to the wedding party's attire, it's important to consider comfort in addition to style. For the bridal party, lightweight and airy dresses are always a hit, especially in cotton, chiffon, or sheer tulle, which tend to drape beautifully and look great in varying lengths." -
HoneyFitz Events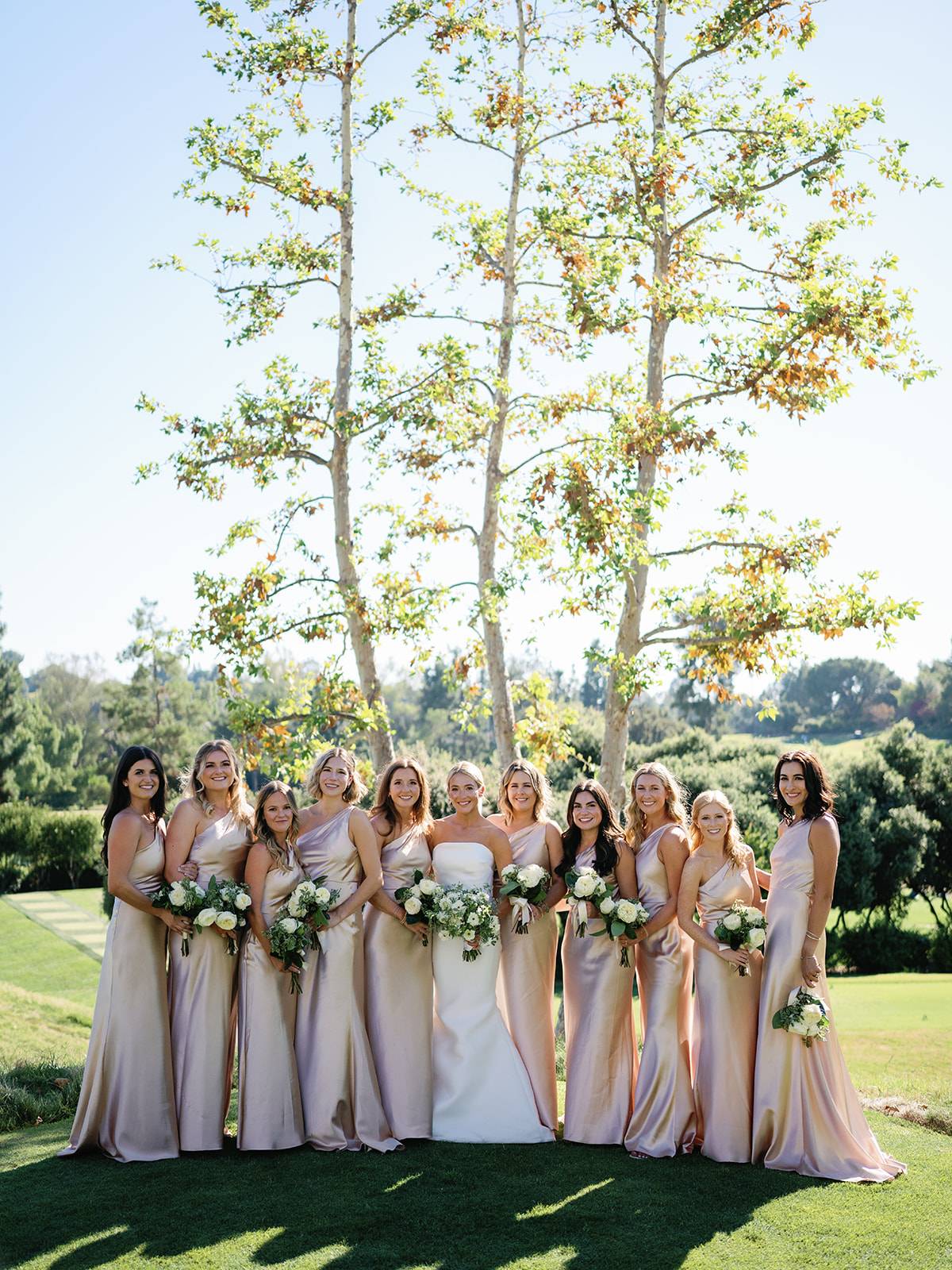 04
Parasol umbrellas are a fun and functional add-on
 "There's nothing better than warm weather on your big day! Wedding days can be particularly long, so making sure your wedding party is comfortable is a priority! Gals, try to choose light and airy bridesmaids' dresses for your wedding party. Comfortable open-toed shoes will also ensure your girls are able to smile and dance through the heat! Floral prints and open-back dresses are always a great summer go-to as well! Gents, light-colored suits with breathable suit shirts are a must! There is nothing more photo-worthy yet functional than parasol umbrellas! They not only keep the sun out of your wedding party's eyes during photos but serve as a nice cool down in the summer heat!" -
Lisa Nightingale,
Infinite Events
05
Lean into the mix and match trend to let your wedding party choose what's most comfortable for them
 "Mix and match bridesmaids dresses are always a great idea, but especially for warm-weather weddings. Let your party choose a style that they will be most comfortable in if warm weather is a concern!" -
Jessica Rodriguez Hanselman,
Crossed Keys Estate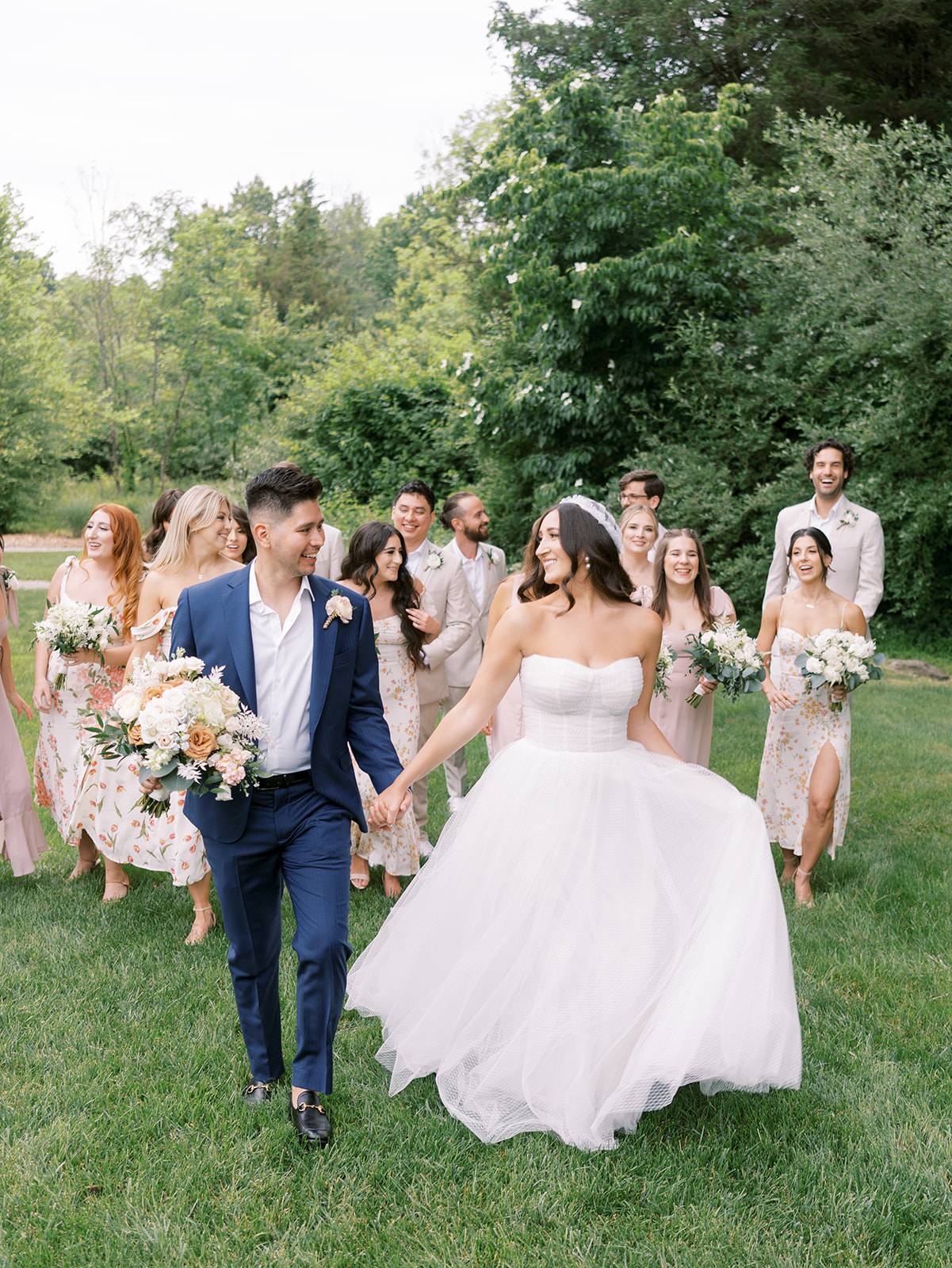 06
Have the guys bring extra undershirts just in case!
"The most popular time of the year to have a wedding is in the summer, but that can lend to the weather being warmer as well. In order to keep your bridal party comfortable but still looking their best is to make sure the groomsmen (especially the groom!) bring extra under shirts in case there's a little perspiration during the day." - Casey Stamouli, Owner & Lead Planner,
Casey & Co. Events
07
Don't forget – updo's are your friend here!
 "Shorter or knee length dresses will be optimal for very hot weather and of course think sleeveless and halter tops, as well as everyone sporting their best hairstyle updos or ponytails." - Valarie Falvey,
Kirkbrides Wedding Planning & Design
08
Consider offering the guys a second "reception outfit
 "Groomsmen can wear light-colored suits or dress pants paired with breathable shirts, like linen or cotton, instead of traditional jackets, even forgo a tie and jacket all together. This will give a more relaxed and summery vibe. Give them a second "reception" outfit that is more casual, yet still warm weather vibey! Prioritizing comfort while still maintaining a cohesive aesthetic is key for a comfortable warm-weather wedding." - Misty Damico, CEO & Founder,
Luxe Event Productions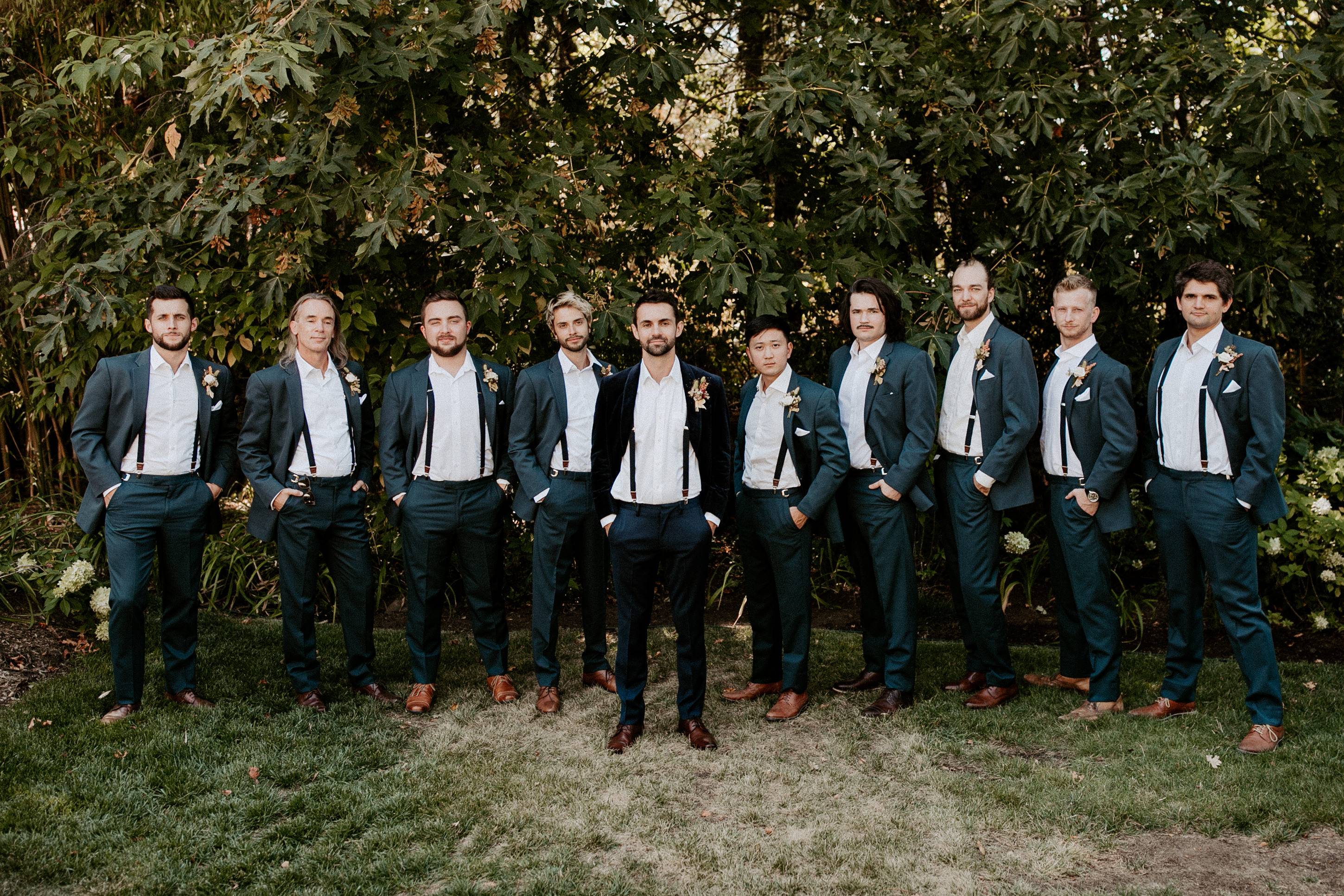 09
If you're going formal for attire, consider letting your wedding party sit during the ceremony
 "For many, the perfect wedding day includes lots and lots of sunshine! That sounds dreamy until your makeup starts melting off, you are sweating under the heat or your guests start getting ill from heat stroke. Set your wedding party and guests up for success by planning ahead. If it is truly a hot day, accommodate your wedding party (and guests) by providing shade. If you are requiring anyone to wear sleeves or a tux/suit, they will not be happy in 85+ degree weather and that's not good for anyone. If it's a formal affair and you do in fact want those that identify as men in suits or tuxes, don't make them stand up front the whole time. Save the front row for them and give them free rein to take off their coats. Do the same for the ladies, and have a battery-operated fan and iced water waiting for them at their chairs." - Nora Sheils, Founder,
Bridal Bliss
+ Co-Founder,
Rock Paper Coin
10
It may seem like a no-brainer, but don't forget about sunscreen!
 "Getting married in the outdoors on a fair weather day in a warm season? Don't forget your sunscreen (and deodorant - but hopefully that's a given)! You could even go so far as to include some sunscreen in your wedding party's gift bags so they don't forget. It's easy to forget about sunscreen when you're not headed for a day of fun on the beach, so remind your wedding party that they'll be exposed to the sun for a time during photos, the ceremony, cocktails - or even dinner depending on your timing and wedding flow." - Alexandra Denniston, Owner & Lead Planner,
Eventlightenment Planning