How to Brace Yourself for Wedding Dress Shopping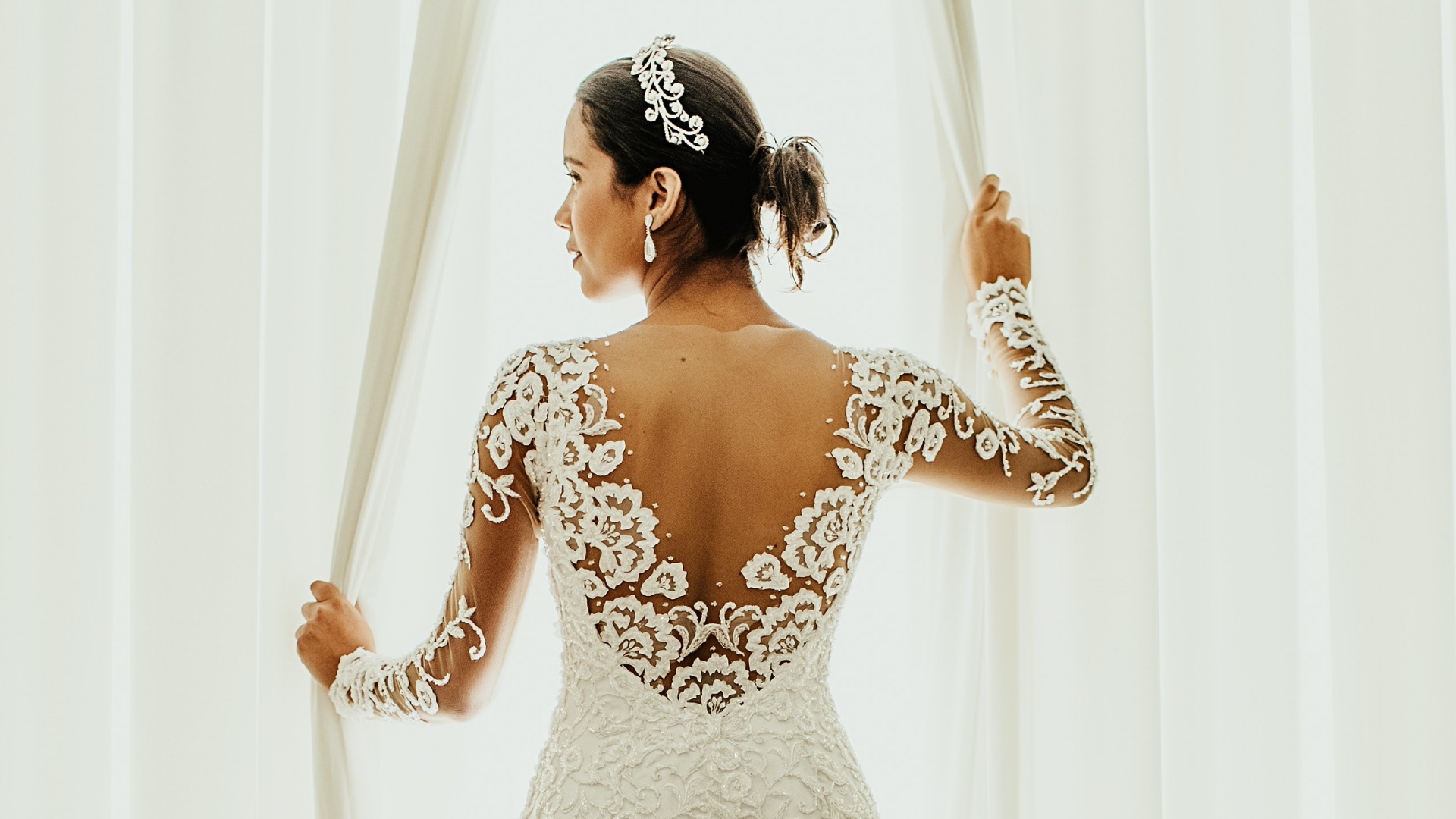 1. Set your price BEFORE you make an appointment. 
The moment you step foot inside a wedding dress shop, you're probably going to be overwhelmed by all of the amazing options. One way to narrow them down? Go into your first appointment with a number in mind. Be upfront and honest with the salesperson about your price point so he/she doesn't bring you a $10,000 to-die-for dress to try on when you can only realistically afford a $2,000 gown. It's easy to fall in love with something that's out of your price range, but if you don't have the space for it in your budget, don't even tempt yourself.
2. Think about the type of wedding you're planning to have. 
Even if you haven't picked a venue yet, you probably have an idea about your desired wedding style. It's good to have an idea of the bigger picture so you can try on dresses that will match the vibe you're hoping to create. A rustic wedding in an old barn requires a verydifferent dress than a big bash in an opulent ballroom, after all. Also consider if you're exchanging vows in a house of worship, as some have strict dress codes (like your shoulder MUST be covered). These broad strokes will help shape your search.
3. Consider your body type. 
If you've been dreaming of rocking a mermaid gown on your wedding day since before you even met your partner, you might be blindsided when that particular style isn't particularly flattering when you finally try it on. Go into your first dress appointment with an open mind. You should definitely try on the dress you've been envisioning for your walk down the aisle, but also be willing to consider some other styles. Ask the salesperson to make a few recommendations…he/she does know a thing or two about what works on various figures! It's quite possible that you may end up going with a dress you didn't think you'd ever like or want!
4. Don't feel pressured to purchase. 
The salesperson helping you pick out a dress has seen what works on women of all shapes and sizes, so he/she probably has some opinions to share. And for the most part, they really do want you to find a dress that makes you look and feel like a rockstar. But, if you encounter someone who is really pushing something on you, be polite, but firm. It's okay to ask what alterations can be made to a dress, to change your mind completely, and to leave without buying anything even if you spent an hour trying dresses on.
5. Don't promise everyone they can come shopping with you. 
While having all your besties by your side as you try on dresses sounds like a great idea, do you really want to have six different people influencing your decision? Sometimes having too many cooks in the kitchen can be a total buzzkill. You will need someone to give you advice and snap some photos for you, however, so consider inviting one or two people whose opinions you REALLY trust, like your mom, your sister, or your BFF. But cap it at those essential shopping partners to help keep the process manageable. If after you've narrowed down the options to two or three you still need some help deciding, widen your inner circle to your bridesmaids to get their valuable input!
6. Come to terms with the fact that wedding dress sizing is different. 
Loverlies, repeat after us: wedding dress sizing is weird. Your size in clothing might be very different than your size in gowns (or it might be exactly the same). If the salesperson suggest that you go up or down a size or two, don't fixate on what that means. Sizes can vary from shop to shop, designer to designer, and style to style. Put the number out of your mind and get your dream dress in whatever the recommended size is…at the end of the day everyone (your salesperson included) wants you to look and feel your best! And, even if you're planning on losing some weight before the big day, buy a dress that fits you at your current weight. It's easier (and more cost efficient) to take a dress in than to squeeze into something that's too small.
7. Make sure you read the fine print.
Once you find THE dress, you're going to be pretty excited. But before you sign on the dotted line, read the contract carefully from start to finish. Then read it again. You don't want to end up experiencing buyer's remorse because your dream dress arrives in the wrong color, fabric or size. Be sure to write down the price and delivery date, the dress designer and style number, your measurements, and any other important information.
8. Give yourself time. 
To make the hunt for the dress as enjoyable as possible, start shopping early. If you don't really know what you want, make an appointment 8 to 10 months out from your wedding. That will give you enough time to try on ALL of the dresses you desire while factoring in the time it takes to make a dress, handle any necessary alterations, and get it delivered. When it comes to your wedding dress, you don't want to feel rushed or like you made a split-second decision that you'll end up regretting.
More like this