What to Expect at Each and Every Wedding Fitting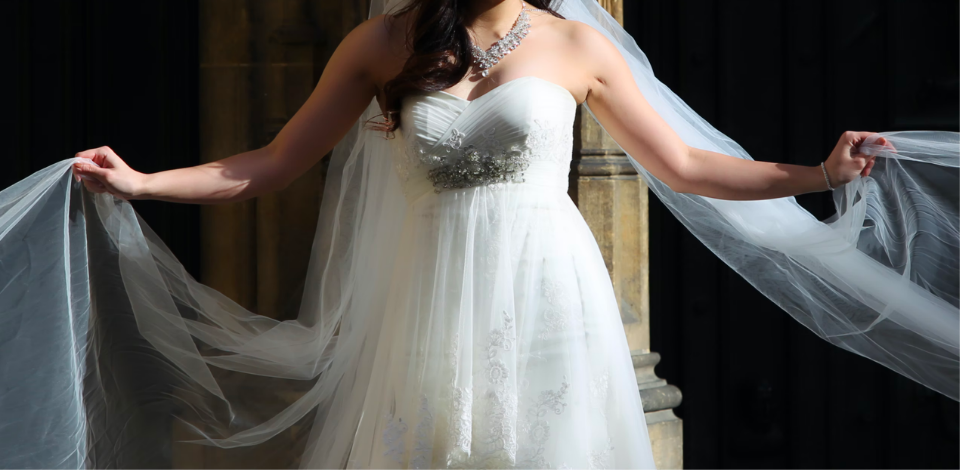 Buying a wedding dress is just the beginning... After finding "the one," you'll be handing your gorgeous gown over to a skilled seamstress, who will make sure it's perfectly fitted, super comfortable, and wedding-ready. But your work isn't done either! Here's everything you need to know about each of your dress fittings, from who to bring to what to wear to what to expect.
The Shopping Trip(s)
What it's for: Um, finding your wedding dress, of course!
When do it: Ideally, nine months to one year before your wedding date. But if you have less time, don't despair!
How to prep: Set a budget and do your research on dresses and designers you love — it'll help you narrow down which dresses to try on.
Who to bring: If you have a crew of family members, friends, and bridesmaids who are dying to accompany you on your dress search, this is the trip to bring them along. Think carefully about whom you bring—too many opinions can be a bad thing!
What to wear: If possible, wear a nude or white bra (strapless is best) and underwear. Wear comfortable shoes if you're hitting multiple stores, but you may want to bring heels if you plan to wear them at your wedding.
What to expect: This appointment can be pretty overwhelming, trying on (and showing off) lots of dresses can be draining—prepare yourself! But don't be afraid to take your time when it comes to finding the right one. Expect to be overwhelmed, but trust that you will find the dress for you. Once you select your dress and sign on the dotted line, your dress will start being made! Your next step? The first fitting.
The First Fitting
What it's for: Assessing just how well the dress fits and if it needs any alterations.
When do it: Usually two to three months before the wedding. If the salon where you bought your dress handles alternations, they will likely reach out to set-up the first sitting when your dress comes in. If they don't do alternations, make sure to research local seamstresses, and call to schedule an appointment once your dress arrives.
How to prep: Start shopping for everything else you plan to wear on your wedding day. This means jewelry, a headpiece or veil, and other accessories, but the key elements are your shoes and undergarments, including shapewear or lingerie.
Who to bring: One or two friends or family members who will be honest about any parts of your dress that look less than perfect.
What to wear: Something that you can easily change in and out of. And make sure bring along your wedding-day shoes and undergarments, plus any other accessories you've already purchased, to see if you like them with the dress.
What to expect: You'll try on your gown, and once the excitement subsides, you'll nitpick every little detail. Does the skirt fall correctly? Is it the right length, and are all the beads attached well? Mention anything and everything that catches your eye to the seamstress, and she'll explain your options. She'll also start pinning and tucking away to ensure you get the perfect fit! Now, your dress will stay with the seamstress while she makes those alterations.
The Second Fitting
What it's for: Trying on the gown with all these adjustments.
When to do it: Five or six weeks before the big days.
How to prep: Create a checklist of specific things you want to check—especially all the alterations you had planned—so you'll know what to keep an eye out for.
Who to bring: Another sharp-eyed friend. Bringing the same person as your first fitting can be beneficial, too, but sometimes getting another pair of eyes on the dress can be more helpful.
What to wear: As always, bring your undergarments, shoes, and other accessories for your wedding day.
What to expect: At this point, your dress should fit really well. You should spend most of the time checking that problems from the first fitting have been fixed, but you can point out new issues, too. Now is also a good time to try dancing and walking around in the gown—it has to be as functional and comfortable as it is pretty.
The Final Fitting
What it's for: Getting you ready for the day you finally get to wear the dress!
When to do it: As close to your wedding day as possible.
How to prep:
Make a plan for transporting your gown from the salon or seamstress. Determine whether you'll have the dress delivered (including when and to where) or 
transport it yourself
.
Who to bring: Your mom, maid of honor, or whoever will be helping you with the dress on the day.
What to wear: Bring those must-have wedding-day accessories. Last chance to see your whole look before the big day!
What to expect: This fitting is as much for you as it is for your go-to girl. During this appointment, pay special attention to handling the dress—after today, you won't have a bridal gown professional dealing with it. Ask the seamstress or consultant the best way to put on, take off, bustle and go to the bathroom in the dress. Don't forget to learn the best way to tame wrinkles, too! While most brides-to-be have three fittings, you might need more to get it just right. That's OK—that's why doing them so far in advance is crucial! Take as many tries as you need to get your dress exactly as you imagined it.
Stories you might like