Fashion
6 Wedding Accessories You Do NOT Need to Splurge On
There are plenty of ways to cut down your wedding budget, but there's one often overlooked budget buster you probably haven't thought of... From those pretty designer pumps to that seriously bejeweled bag, all of the accessories that make up a bride's big day ensemble can quickly add up. So, if you're looking for ways to save a bit, avoid splurging on these add-ons.
1. Your shoes. 
Think about it: If you're wearing a long dress, hardly anyone will even see your fancy feet! Yes, you want to buy shoes that will be comfortable all day, but there are plenty of options that won't cost as much as your wedding cake. Find a good sale and spend your savings on something that'll get a little more mileage.
2. Your veil. 
Veils are undoubtedly an iconic part of the whole wedding ensemble, and if you have your heart set on wearing one, you should definitely do it. But, with most brides only wearing them during the ceremony, there's really no need to break the bank. Choose a simple veil that's not by a big-name designer (and keep the embellishments to a minimum), enlist the help of a local seamstress to make one for you, or borrow one from a close friend or family member.
3. Your garter. 
If you're wearing one at all. It's another thing that won't be seen by very many people! Only want one for the garter toss? Go as cheap as you can — the guy who catches it won't know the difference (especially after a few cocktails) and will probably get rid of it promptly after the party.
4. Your getting-ready look. 
Don't get us wrong: We're all for a cute robe, bridal part T-shirts, or another adorable outfit to sport while you're getting dolled up. But these extras are the types of things that sneak up on you and bust your budget. Buy a generic option (like "It's my Wedding Day!") rather than going for customization (like "It's Carrie's Wedding Day!"). Or, if you're a DIY-er, add the customization yourself!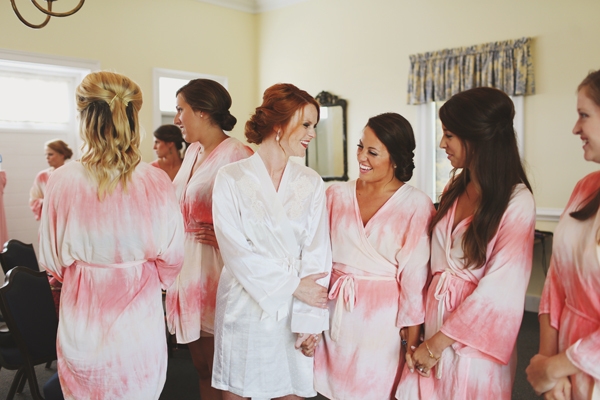 5. Any non-wedding rings. 
Let your engagement ring and new wedding band steal the show! Wearing another sparkler will just steal the show.
6. Your purse. 
There's a good chance that your maid of honor will carry it for 95 percent of the day, or that it'll simply sit at your place setting. Instead of spending a pretty penny, buy one that you'll use again after the wedding, like a simple neutral or something that matches your color palette. Of course, every bride has different priorities in her budget, and these are just a few ideas if you're trying to cut down your budget. If you're dying to buy a stunning pair of shoes, don't let us tell you otherwise!