Fashion
Inside Loverly's Secret Soirée in Celebration of Engagement Season
Collect, manage, and organize your wedding guest information for each event and track their preferences.
There is no better time to celebrate love and marriage than the present. Following the holiday season, January and February are widely known as the most popular months for engagements. To kick off the start of engagement season, Loverly hosted its first ever Secret Soirée in New York City with incredible influencers and guests in attendance. To further elevate the event, Loverly's partners –
Minted Weddings
,
Bronx and Banco
, and
Ring Concierge
– gifted all attendees personalized goodies in each of their brand moment reveals.
This event was an amazing way to meet other engaged brides to talk about wedding planning and where to start. - Erika Fox
As a leading wedding planning platform for the modern couple, Loverly's mission behind the event was to bring together women at all different stages of their wedding journey to build organic relationships and connect a community of active brides-to-be with industry leaders. Not only would this encourage guests to establish new relationships and share them with their followers, friends and family, but they would have easily sourced the perfect brands to rely on and utilize on their big day.
The Vision & The Venue
For their first Secret Soirée, Loverly wanted to achieve a dark, moody, elegant, and intimate look and feel for the event. Among the plethora of restaurants and other potential venues to be found lining the streets of New York City, was what easily became the ideal venue that fully embodied the overall theme and aesthetic Loverly wanted to achieve. SAINT, short for Brasserie Saint Marc, is a brick-walled brasserie located in the East Village that catered the event with their upscale menu of new American and French dishes with drinks to pair.  
You can see how much thought went into making this event and the gifts personal, and it shows! - Kelley Flanagan
Upon entering the softly lit entryway, guests were greeted by the Loverly team who then led them to the back where the event took place. Tucked away beyond their gorgeous oak and marble bar revealed a cozy brasserie-styled dining area that perfectly encapsulated the dark and moody feel Loverly wanted to create for their intimate, private dinner. What quickly became the focal point of the night were the richly adorned dinner tables embellished in jewel tones, intricate floral displays by Karma Flowers (@karmaflowers), cozy candlelight, and elegant black and gold dinnerware all designed and provided by BorrowedBlu (@borrowedblu). Out of the way, but not out of view was a smaller table wrapped in florals holding a pyramid of mystery black boxes to be shared at the end of the night. What could they be? We'll reveal that soon enough!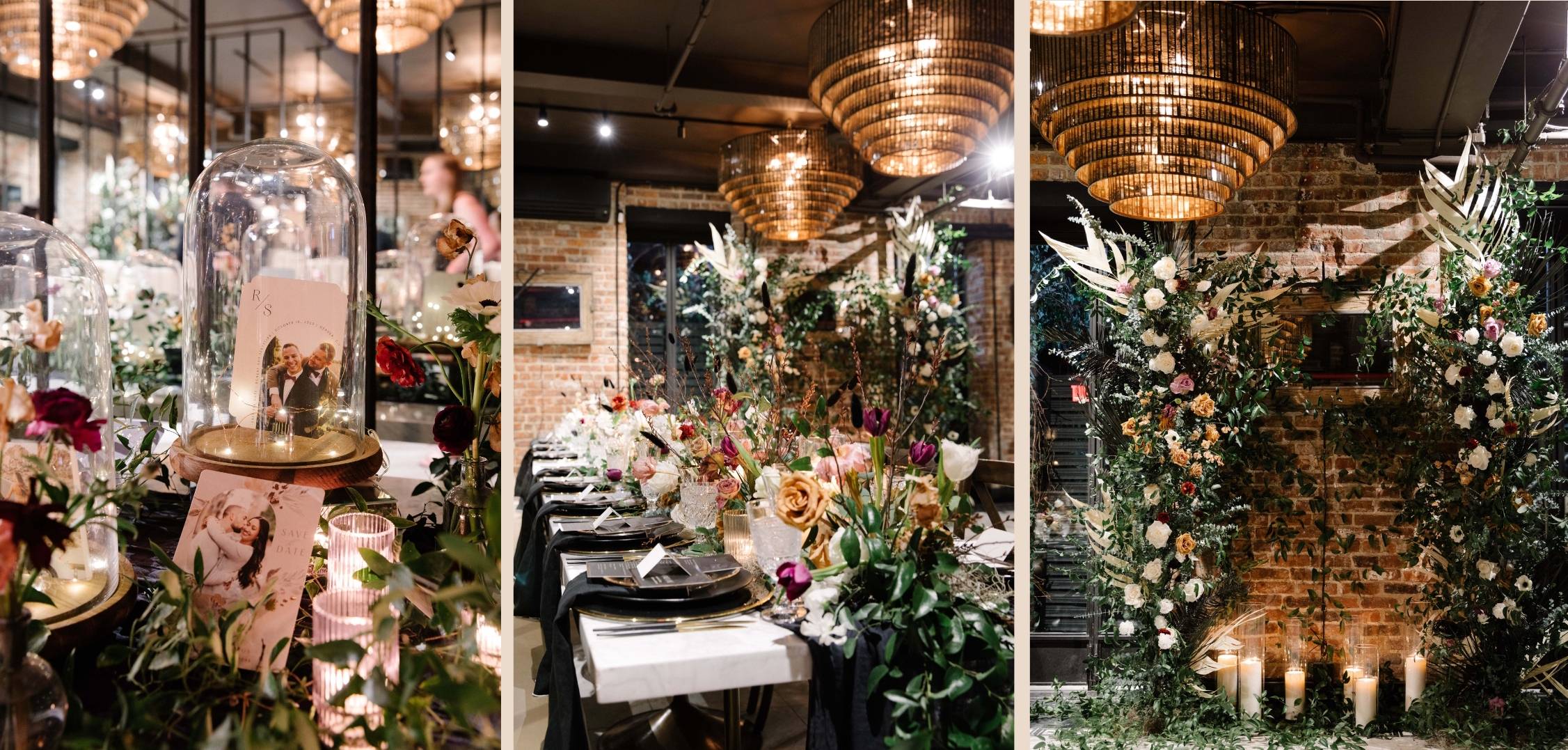 Another beloved favorite by all guests was the photo backdrop archway wrapped in florals and greenery that was set against the restaurant's rustic brick wall. After photographing the gorgeous tablescape and venue, photographer Hayley Pfitzer (@hayley_pfitzer) captured guests as they took turns securing their photo-ops.
With the help of the production team, Be Inspired PR (@beinspiredpr), each and every detail of the event from the venue to décor was expertly sourced to meet Loverly's vision on creating the moody and intimate experience.
Highlights of the Night
Among the many highlights of the night, from the sharing of wedding plans and hopes for the future as women regardless of their relationship status discussed love, life, career and family to fawning over each other's outfits and engagement rings, the celebration of love and marriage was in full swing.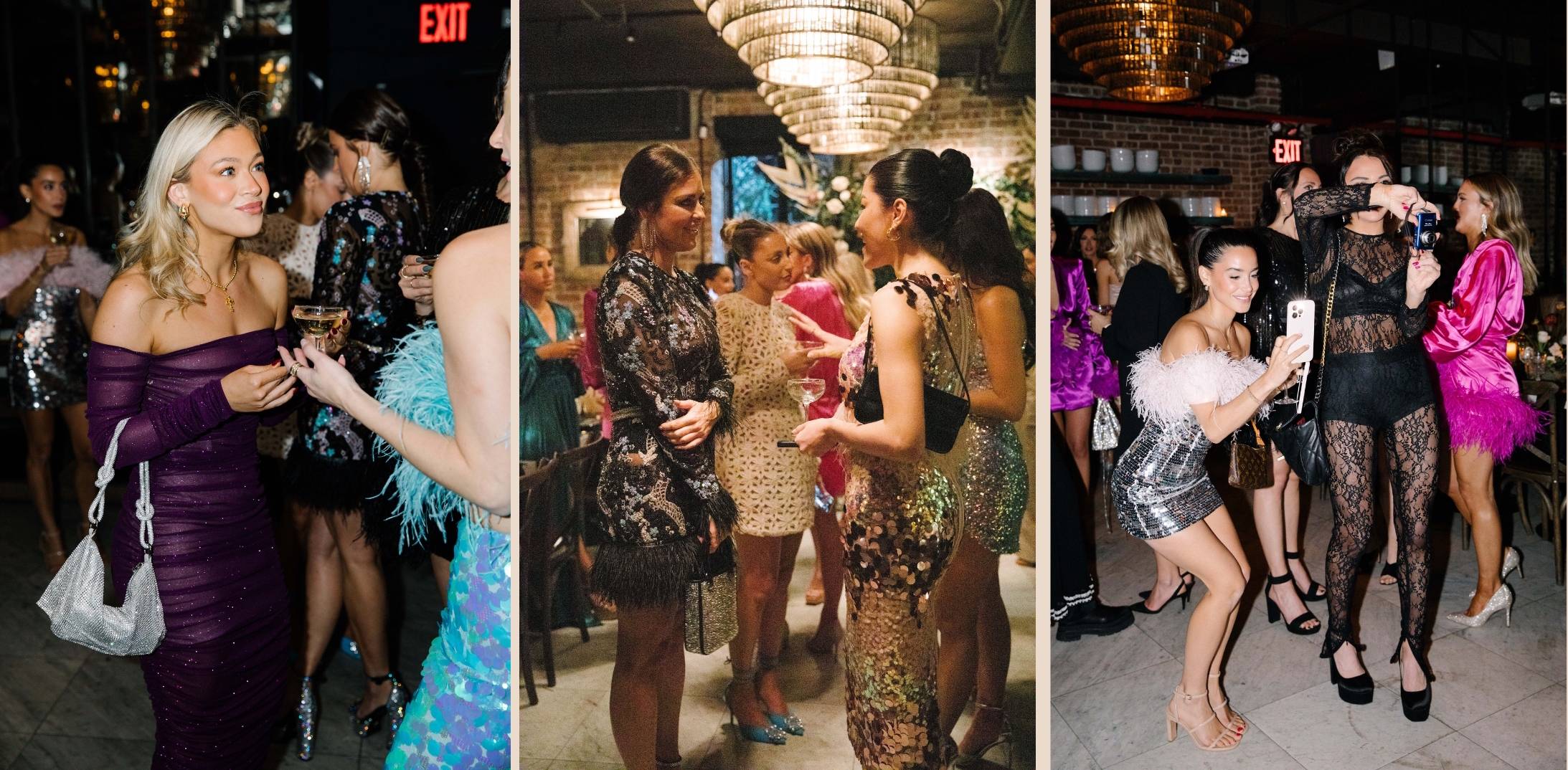 However, the most important highlight of the night was the speech delivered by Kellee Khalil, Loverly's founder and CEO, and the visionary behind the Secret Soirée, thanking everyone for attending and sharing an overview of who Loverly is and the new tools the platform offers as the go-to wedding planning brand for modern couples. Before sharing their respective brand moments, Nicole Wegman, the founder and CEO of Rings Concierge, and Natalie De'Banco, founder and creative director of Bronx and Banco, also took center stage to share with guests their company's missions, offers, and new launches for the wedding season ahead. 
As guests continued to mingle throughout the night, influencer attendees were sure to keep their social media following up to date with all of the highlights of their night, sharing their looks, selfies, new friends, and of course, their personalized gifts and stationery.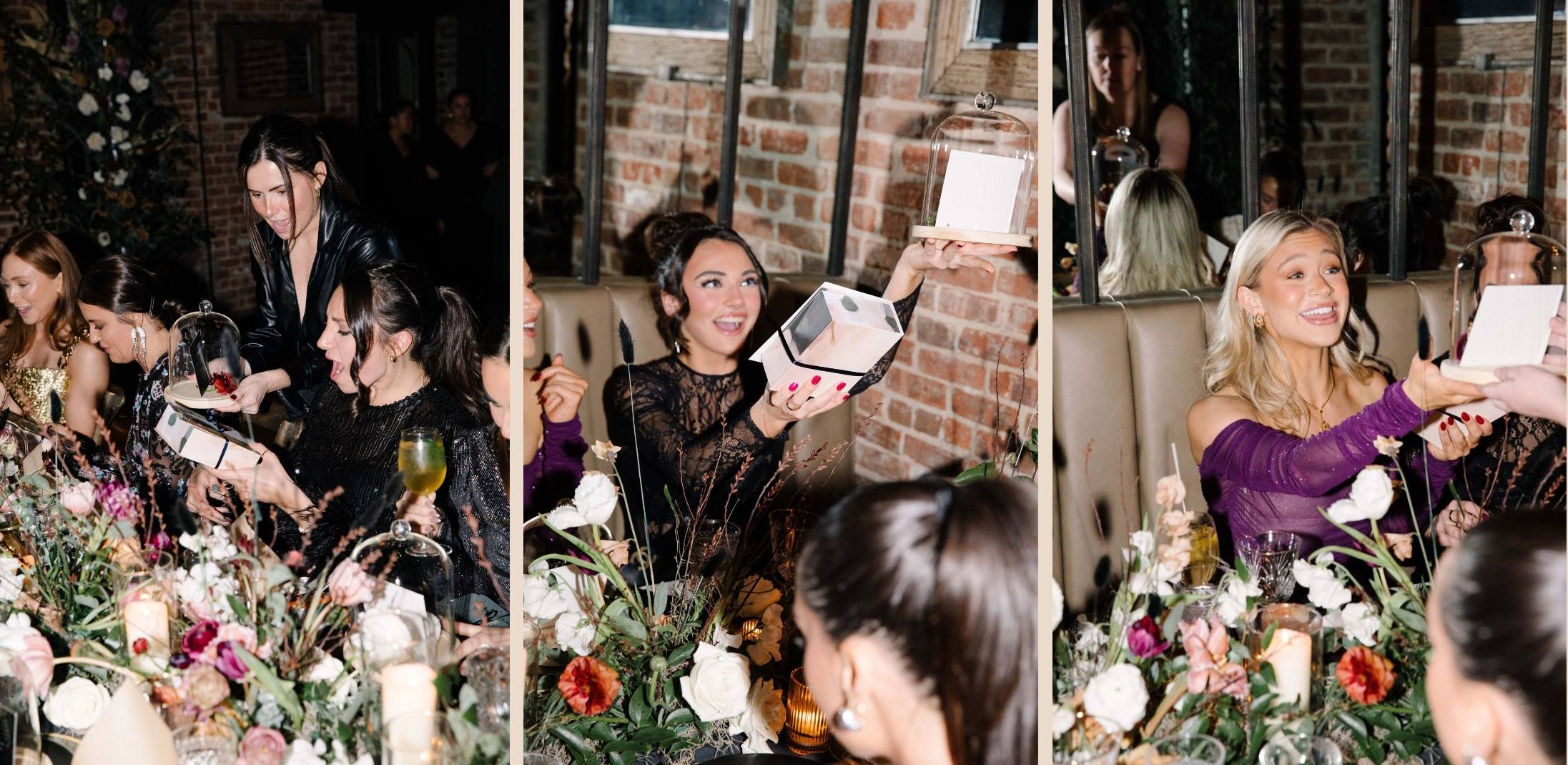 The Glamorous Guest list
From recent brides and engaged brides-to-be to Tik Tok Creators and influential voices, Loverly's Secret Soirée guest list included some notable faces in the wedding category. Among the list were Alexandra Madison, Audrey Truilinger, Nicole Pellegrino, Anna Heid, Kelley Flanagan, Brianna Joye Kohn, Nicole Wegman, Natalie De'Banco, Erika Fox, Charlene Truong, Kellee Khalil, Alexandra Lakhman, Jennifer Decillis, and Natalie Silverstein. To make the night simple and stress-free for their esteemed guests, partner Bronx and Banco outfitted each guest in their signature clothing collection in celebration of their new wedding collection. The decision to outfit each guest in Bronx and Banco was not only the perfect way to elevate the event, but also created a sense of confidence for each guest upon their arrival.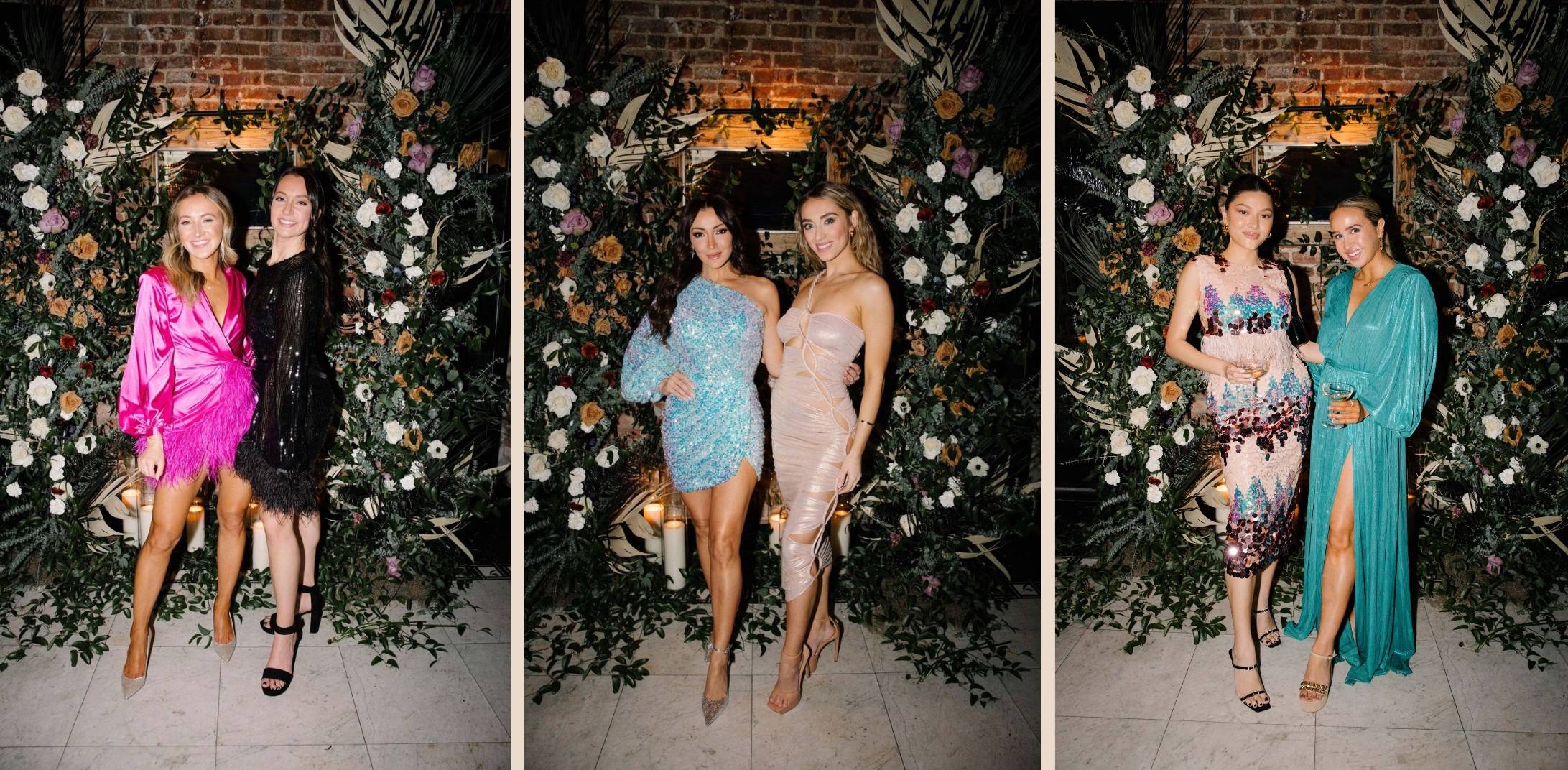 Prior to the event, invitees were able to select their personalized outfits from an exclusive lookbook which allowed them to ensure their attire would fit the evening wear dress code without needing to worry if they'd be over or underdressed. On the night of the event, attendees flaunted their outfit of choice ranging from mini dresses to long gowns, all including mesmerizing detailing from feathers to sequins.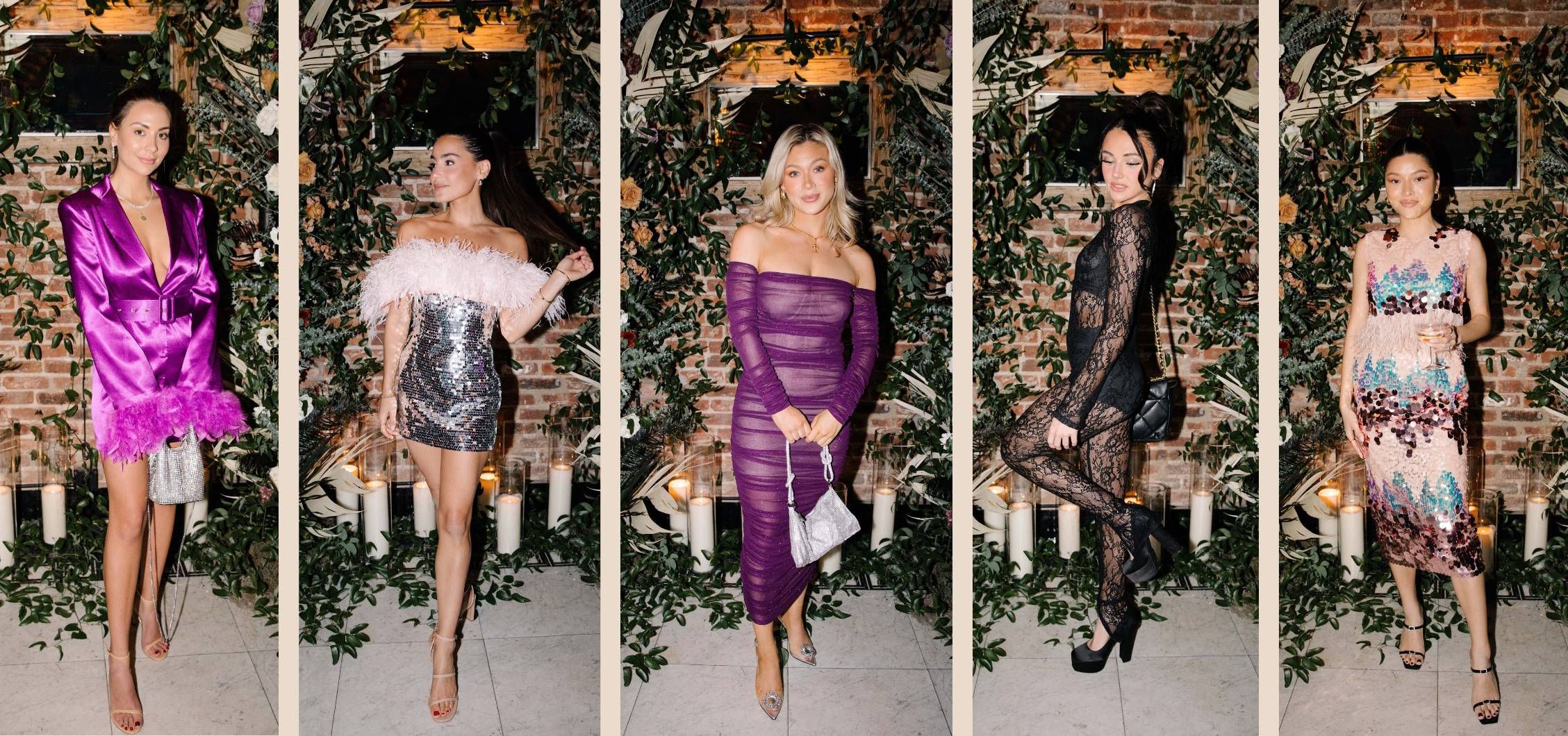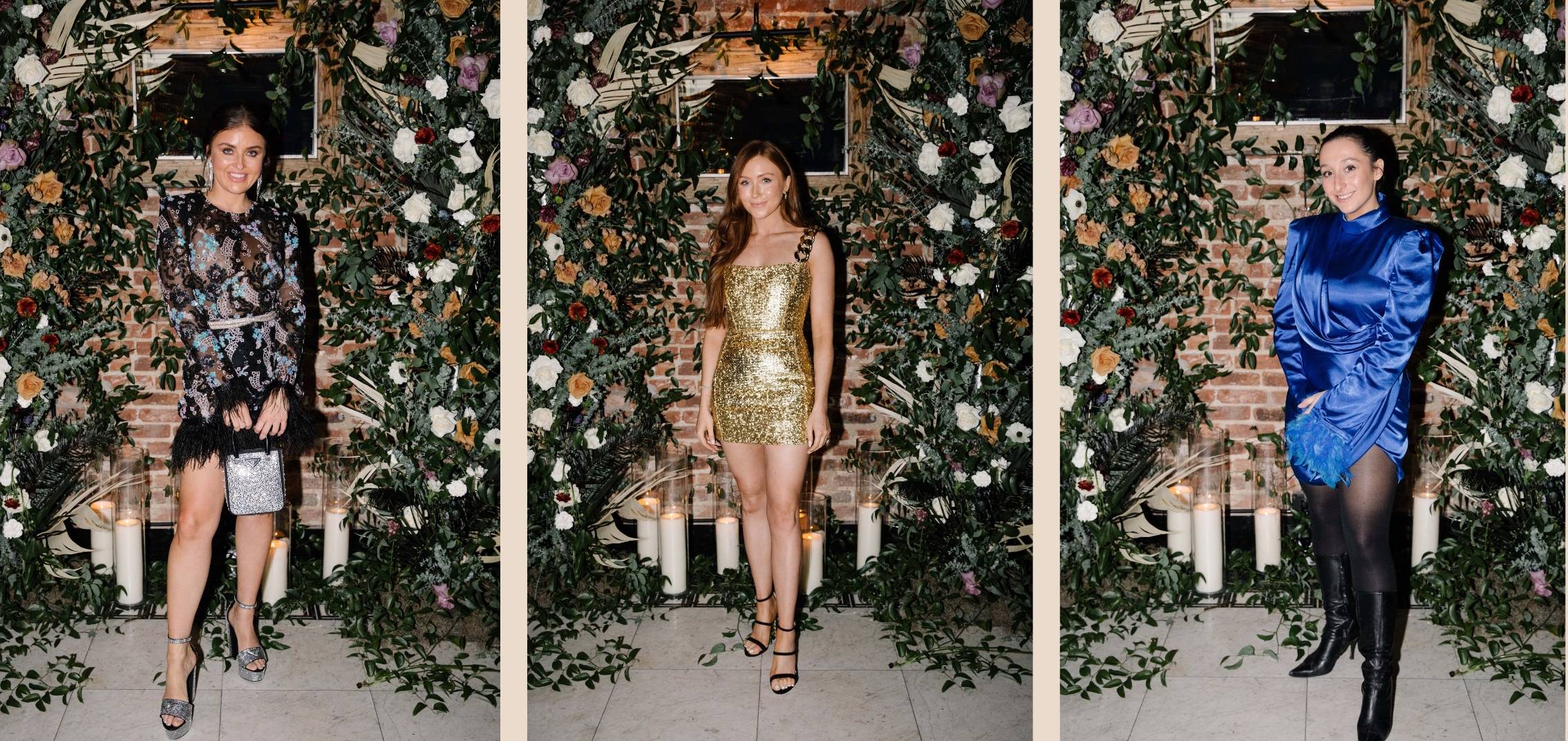 Iconic Brand Moments
Adding to the already lavish tablescape were beautiful glass cloches lit up with dreamy fairy lights. Each brand moment was presented through the glass cloches tailored specifically to the item or items that each brand wanted to reveal in honor of their latest launches.
This event was a blast. The gifts, the brands, the people, absolutely amazing! Bravo! - Alexandra Madison
Minted Weddings, the go-to site for customizable wedding stationary, presented each guest with a personalized Save The Date card including the guest's name, their partner, an important date in their life and a personalized image. In addition, each guest was gifted personalized notecard/stationery, a 20% off gift code to their followers for Minted Stationery, a $250 Gift card for their personal Minted Stationery usage, and an exclusive invite to the Minted Valentine's Day event experience.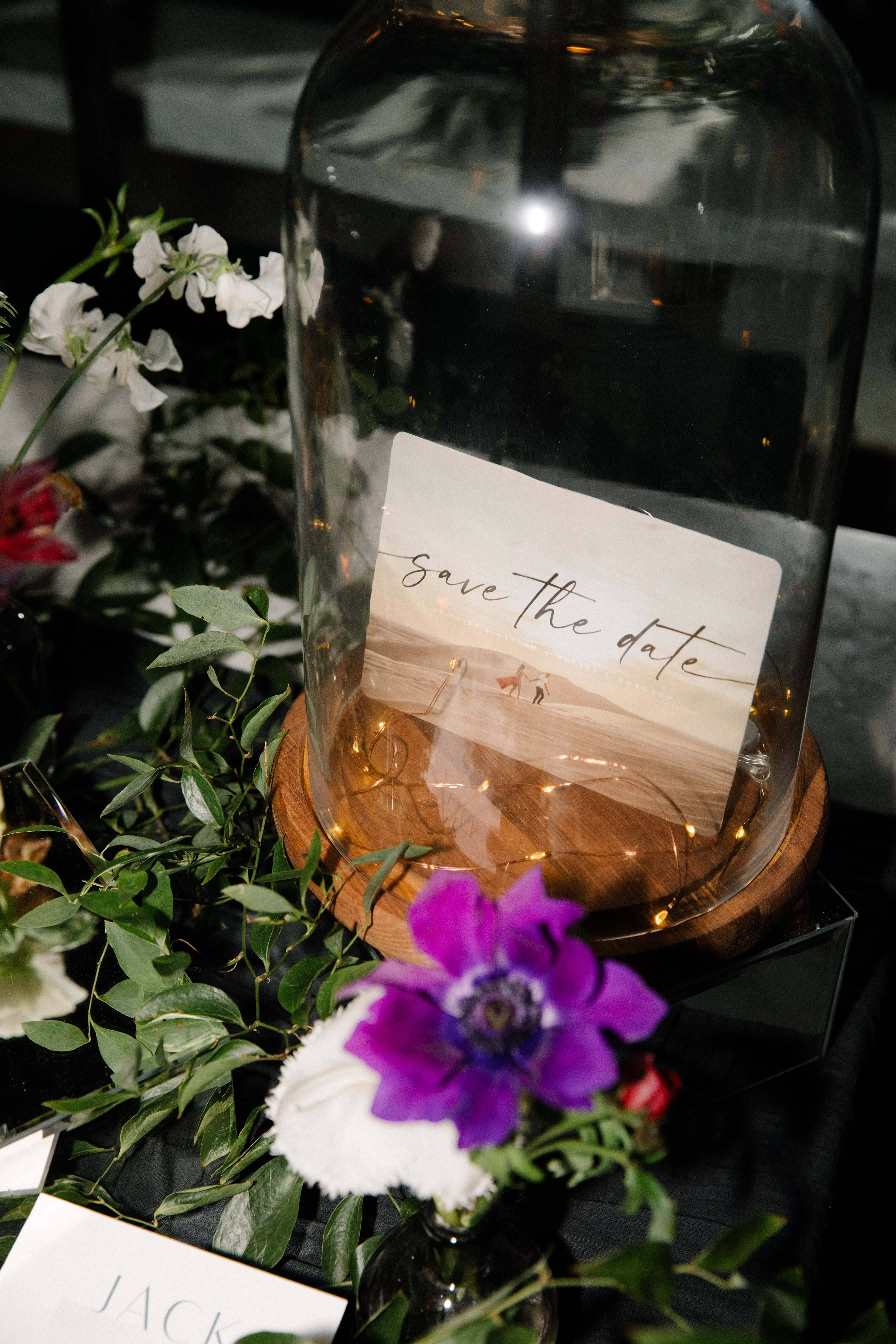 What makes Minted Weddings the go-to partner to celebrate all things love and marriage, is their commitment to providing stationary for all life cycle moments including announcing your engagement, save the dates, wedding stationery and signage, but also general stationery needs like thank you cards, holiday cards, address change and life announcements and more
The second brand to dazzle event goers was Bronx and Banco, an Australian brand creating cutting edge styles adorned by celebrities, socialites and sophisticated career women alike gifting attendees a VIP code to shop the Bronx and Banco collection. Whether you're a bride, guest, or bridesmaid, Bronx and Banco is an amazing brand to consider for all wedding events as they offer a variety of styles and fits to fulfill any of your requirements.
Last, but certainly not least, was Rings Concierge, a leading luxury jewelry brand by women for women, that gifted their new Graduated Single Prong Diamond Circle Studs ($1,798 value) in a sleek jewelry box surrounded by fresh florals. Aside from engagement jewelry, Rings Concierge not only offers an array of fine engagement jewelry, but they are also well known for their wide range of jewelry that can meet your needs for any and every event.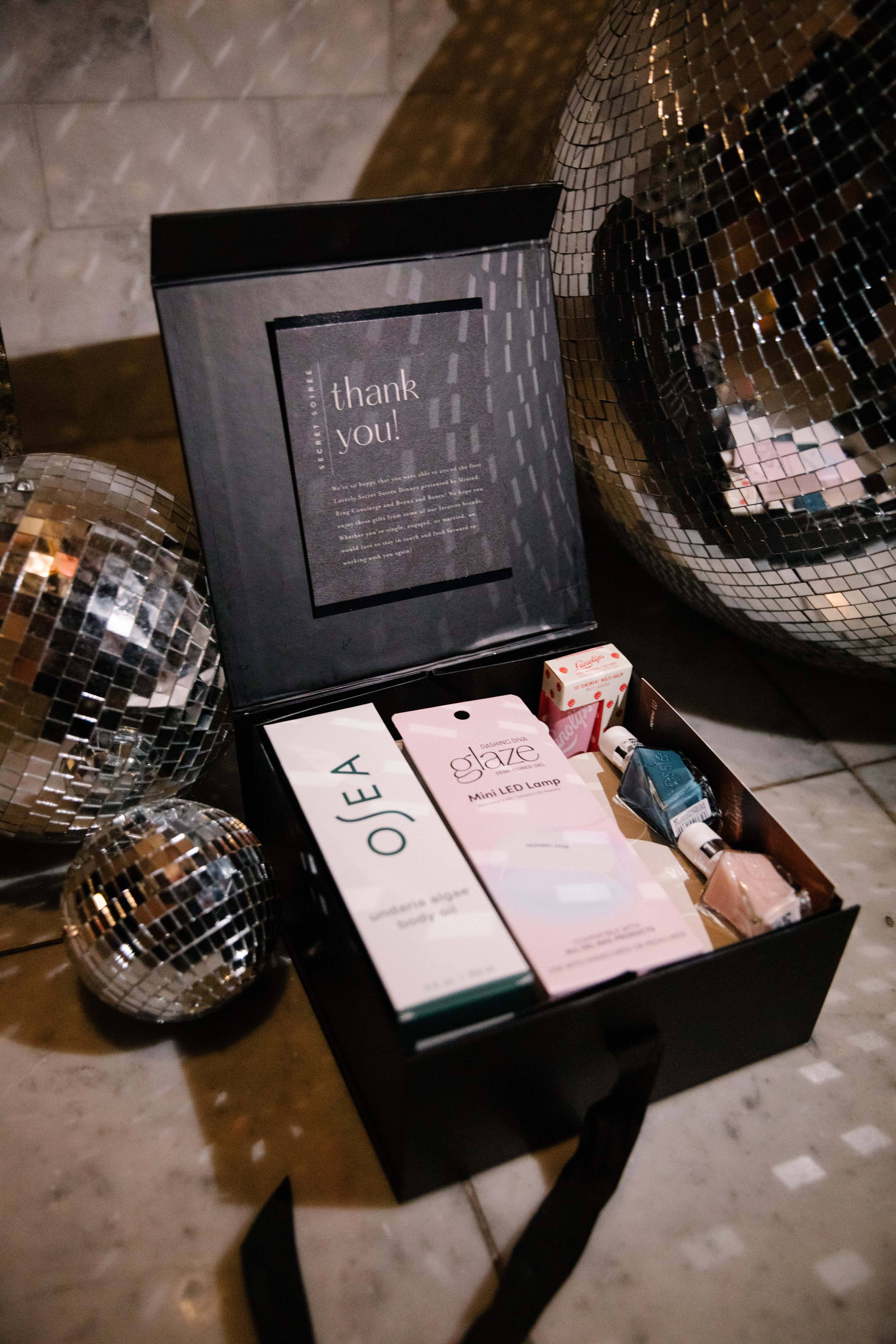 As the night came to a close, there was one more surprise in store. The mystery boxes seemingly forgotten from the corner of the room were distributed to the remaining guests. Inside the sleek, black gift boxes were a variety of goodies perfect for a self-care night. Participating brands contributed one or more of their fan favorite products to be included in the guest gift boxes.
Loverly's Secret Soiree Gift Box Goodies
Well received by all in attendance, Loverly's first ever Secret Soirée went off without a hitch. The intimate dinner and ambiance created a warm and inviting atmosphere for guests to have genuine conversations surrounding their life, career goals, personal relationships, wedding status, wedding planning journeys, and more. Attendees weren't shy to relay their love and gratitude towards Loverly and the brands and partners involved in making the night special both during and after the event. While the night's festivities have long since ended and attendees are left to enjoy their personalized gifts and keepsakes, Loverly has much more to come as this year's Secret Soirée is but the first of the event series to hit all major cities.
If you're located in the Los Angeles, Miami, Austin, Nashville, or Charleston areas, you'll want to keep an eye out for Loverly's next event and find your way onto the guest list for another night of laughter, glitz and glamor.