Fashion
Everything You Need to Know to Hire a Seamstress
Here's what nobody tells you about locking down your dream wedding dress: The stress of dress shopping pales in comparison to the stress of handing said dress over to a complete stranger to alter (or, in certain cases, completely overhaul) and turn into perfection in time for your big day.
For the long and the short of it, we turned to a woman that's seen it all: 
Nearly Newlywed
 founder Jacqueline Courtney. She has witnessed every sort of in-house and customer alteration go down—and has thousands of blissful bride clients to prove she knows how it needs to be done. Here are her tips: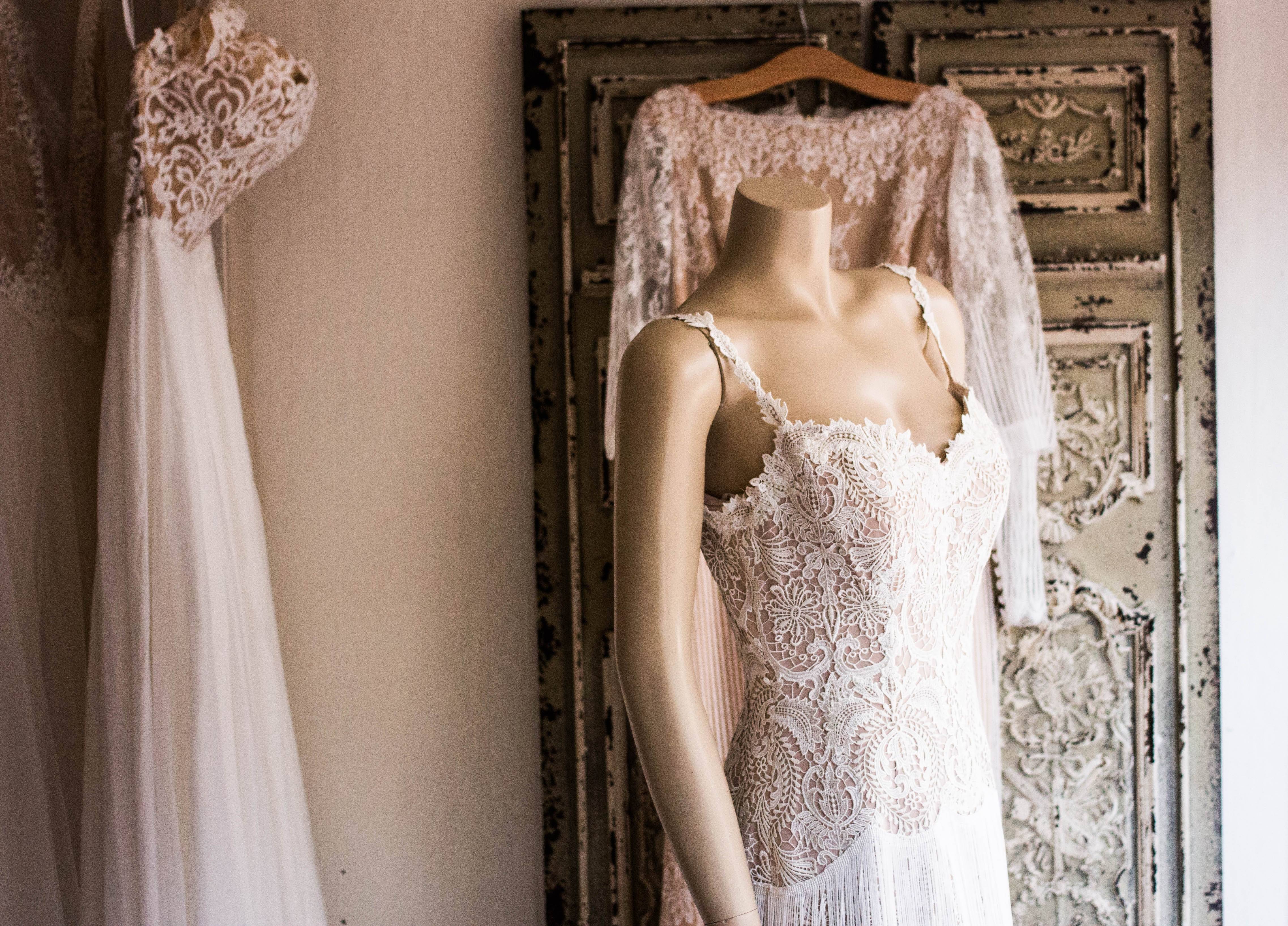 What to look for in a seamstress?
1. Experience...with actual wedding gowns.
"A great seamstress can do almost anything—sometimes I think they are magic after I see what they can do," says Courtney. "However, they should also be clear about what they can't do or won't do."
2. Opinions (upon request).
According to Courtney, "Brides should also ask for the seamstress's opinions. They see hundreds of gowns and brides, so if they are experienced, they will have a large knowledge bank from which to offer advice for the perfect fit and look."
3. A good track record.
"Alterations are an art, and a great seamstress or tailor is a master of the craft," Courtney tells us. So vet and research your seamstress as much as you would the other important vendors at your wedding.
4. Clarity about what you want.
"When taking a dress up and in, brides should ask where and how the dress will be altered, and what the process will entail," she says, noting that clear communication up front is key to cutting down on disappointment—and rushed work—for the final dress design.
5. Attention to detail.
According to Courtney, "If fabric is being reduced and cut down, they should be very clear and certain on the heels and undergarments you are wearing, and make sure the seamstress won't be too aggressive."
If you haven't ordered your gown yet, give yourself at least a month for alterations.
Courtney recommends "shopping" a seamstress no less than six to eight weeks before the wedding date to keep last-minute stress levels down. Remember, you're not the only bride in town—and wait times vary by the season. "We work with some seamstresses in New York that consistently turn around wedding dress alterations in a week's time," she told us. "Two to four weeks is more standard and we have heard of some that are longer."
If you go vintage, pre-owned, or off-the-rack, fit is key, but length is a deal-breaker.
"The length is the first thing we tell brides to look at, followed by the general sizing," says Courtney, whose site features a (brilliant!) shop-by-height feature apart from the typical label, size, and style search fields. She suggests looking for gowns that are exactly at—or longer and bigger than—your size, not smaller.
Remember: Altering an existing gown can take just as much time as ordering a new one. "It is not uncommon for brides to need to take a gown in a second or third time as the wedding date approaches, but brides should never over-alter a gown or take it in beyond what their current body is, especially as certain areas may lose weight or shift differently," Courtney says.
If you're going up or down a size, size up.
"Even if a bride plans to tone up before her wedding, we advise her not to browse for smaller sizes," says Courtney. "Better to have the seam allowances and fabric to take it in a few sizes than to be left feeling the dress is too snug."
Be realistic—and let your seamstress in on your plans. Courtney says that if you find your gown well in advance of the big day, you should discuss your goals with the seamstress and be candid about them.