How to Deal If You HATE Your Bridesmaid Dress
It's every bridesmaid's worst nightmare (and a fairly common one at that): The bride picks a dress that you simply can't stand. Maybe the color looks weird with your skin tone or the cut isn't flattering. No matter what it is, you just know you'll hate wearing it, even if just for a day. So, what's a bridesmaid to do?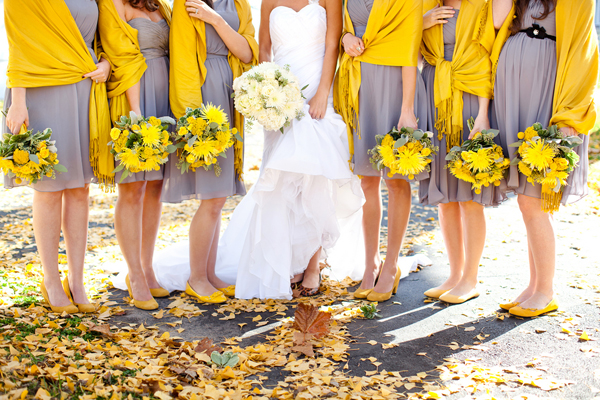 Photo by Katelyn James Photography on Southern Weddings via Lover.ly
Get it tailored.
The right fit can make all the difference, and it's totally understandable to hate a dress that's seriously ill-fitting. Of course, you shouldn't alter it to the point that it's unrecognizable, but adjusting the straps, bust, or waist could turn the dress from a hot mess to... well, hot! Just give the bride a heads up, and don't make any major changes without her approval.
Ask about accessories.
With a statement necklace or colorful wrap, nobody will even notice that dreaded dress! See if the bride is open to taking a little shopping trip to pick out some pretty accessories or find out if she has any guidelines in mind for what you can add to your outfit on the big day.
Draw the attention elsewhere.
Divert the attention to a complex updo that'll draw people's eyes up, or opt for a dramatic smokey eye or a bright lip. Alternatively, pull people's eyes down with a killer pair of stilettos or some colorful kicks. Just be sure to follow any "rules" regarding what you can and can't wear.
Do your own thing—after the photos and ceremony.
After all your bridesmaids responsibilities are a wrap—group photos, standing up during the ceremony, and maybe a toast)—the couple will probably be too busy to care what you're wearing. We're not suggested a dress change, but adding a sweet leather jacket or slipping into your favorite flats is totally fine.
Make a post-wedding plan.
You'll feel surprisingly better if know the dress's fate. Planning to donate it? Have it totally altered? Burn it? Tear it to shreds? Make a plan just to calm your mind.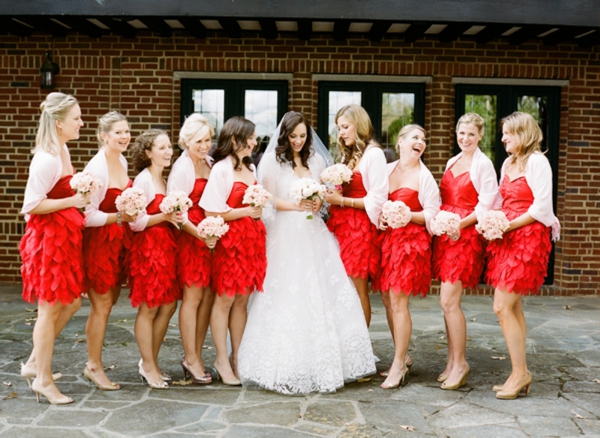 Photo by Adam Barnes on Bridal Guide via Lover.ly
Band together.
If one person hates the dress, then it may just be a matter of taste, but if the
whole crew
 can't stand it, then you might be able to make a case to the bride. That said, choose this option with caution and proceed carefully (and don't even think about this path if dresses have been ordered and paid for, and there's no turning back). Plan to make a suggestion—not a demand—and consider pinpointing one element that's not working for everyone, instead of giving the bride a laundry list. You might not get her to change the color, but perhaps you could sway her on the silhouette, for example. Most of the time, though, it's best to just grin and bear it, and show the bride some support. At the end of the day, that's really what being a bridesmaid is all about! --By Kristin Doherty Read our best tips for bridesmaids:
The Ultimate Bridesmaid Budget Guide
The Basics of Being a Bridesmaid 10 Problems Only Bridesmaids Understand