Fashion
5 Tips For Choosing A Wedding Day Look
Collect, manage, and organize your wedding guest information for each event and track their preferences.
Choosing a wedding day look can be a daunting task for many brides-to-be. With so many options available, it can be difficult to decide on the perfect dress, hairstyle, and makeup. However, with a little bit of planning and some helpful tips, you can feel confident and beautiful on your special day.
We all want to look our best on the day that we marry the love of our lives. However, with so many options available to us, it can be difficult to know where to start. This is especially true when it comes to
choosing a wedding day look
– but don't worry: we're here to help! Whether you're a bride looking for ideas or just someone who wants some tips on how to choose jewelry for your special day, we have put together this list of tips that will help you choose jewelry that compliments your dress and personal style perfectly.
There's nothing like trying on a dress to help you decide if it's right for you, so take advantage of this opportunity. Try different styles, cuts, and materials. Most people try on wedding attire as early as 1-2 years before the day of the wedding. That is because it can take some time to find the perfect dress or outfit within your budget that matches your style and can also be tailored in advance for your wedding day. It's certainly not something you want to leave until the last weeks before the big day. And don't forget accessories! You'll want to 
choose your wedding jewelry
 and shoes as well when planning out your look— even if they're not part of the actual dress itself.
2
Don't forget about the groom
Don't forget about the groom. The best way to make sure your look is cohesive is by making sure he has a wedding day look planned in advance, too. This doesn't mean that he needs to match what you're wearing exactly — but it does mean that he should at least be
wearing something in the same color family
(if not coordinating).
Here are some tips:
Make sure his suit is tailored and fitted perfectly so it looks good on him no matter what size or shape he is.
If there's going to be an officiant at your ceremony, ask them if they have any specific rules about how grooms should dress for their weddings; sometimes grooms have different requirements than brides do because of religious customs or traditions surrounding marriage ceremonies.
When choosing accessories like ties, boutonnieres, and cufflinks for both yourself and your partner (or just yourself), keep in mind that these items should complement each other without being too similar; this will help create a balance between both sides' outfits.
The most important thing to remember is not to overthink things. You want your wedding day to be an expression of who you are, but it's also a celebration--and as such, it should be fun and relaxed! Don't get bogged down in the details; instead, focus on the big picture. Be open to suggestions from friends and family members (even if they don't have any experience with makeup), or even just take some time out before getting ready so that you can enjoy some quiet time alone with your partner by candlelight (or whatever else works for the two of you).
4
Don't go overboard with accessories
When it comes to wedding accessories, less is often more. Wearing too many rings on your fingers or bracelets that clash with your other jewelry can ruin your wedding look.
It's best to limit yourself to one ring per hand, and avoid mixing gold with silver or other metals unless it's part of a intentional style choice. When it comes to bracelets, choose a narrow style that won't get in the way of eating or dancing. And be sure to avoid bracelet colors that clash with your other jewelry.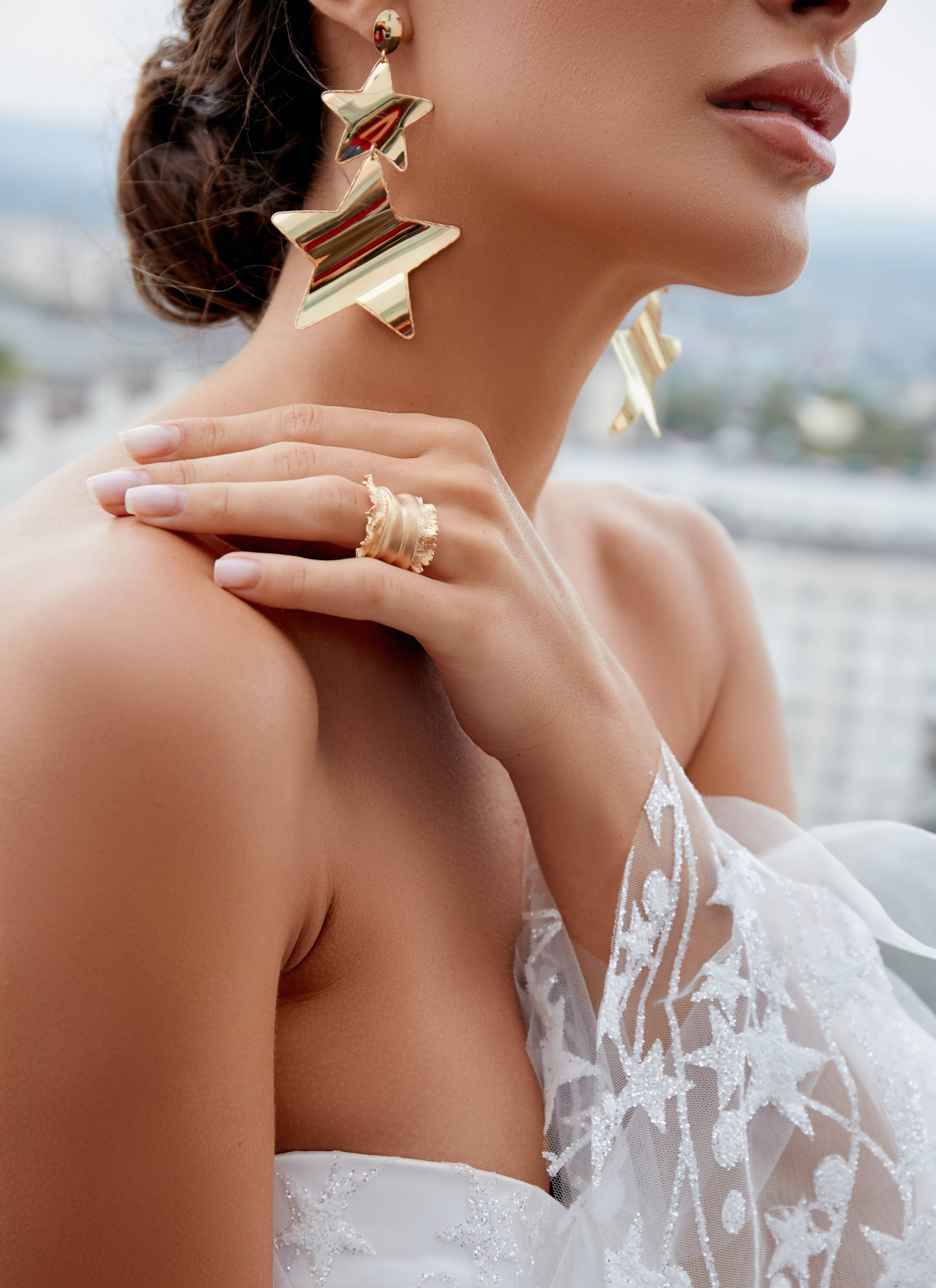 Necklaces should complement each other rather than compete for attention. Multiple pendant shapes and sizes can look cluttered when worn together. Stick to a simpler necklace that makes a statement without being too over-the-top.
5
Take all the details into account
There could be a few details that you're forgetting about when going shopping. For example., making the mistake of wearing a strapless dress during a winter wedding (if you don't have a proper matching coat in mind). The tiniest details could impact your look for the day (and the looks of the other members of your wedding party) Here are a few important ones to keep in mind:
Consider the time of day.
Think about the weather.
Consider the venue.
Choose your dress and bridesmaids' dresses accordingly, as well as other outfits like the groom's tuxedo or suit, if he's wearing one (some guys prefer to wear a wedding suit). The color scheme should also be taken into account when choosing these items so they match with everything else perfectly!
When selecting a wedding dress, it's important to consider the overall theme and style of your wedding. If you're having a traditional, formal ceremony, a long, white gown with a veil may be a perfect choice. If you're having a more casual, outdoor wedding, a shorter dress or even a jumpsuit may be more appropriate. Be sure to try on a variety of styles and fabrics to find the one that makes you feel the most beautiful.
When it comes to hairstyles
, there are countless options to choose from. A classic updo, like a bun or chignon, can be elegant and timeless. If you prefer a more relaxed look, consider a loose, romantic hairstyle with soft curls or waves. Be sure to bring a picture of your dress and any hair accessories you plan to wear to your hairstylist for inspiration.
Makeup is another important aspect of your wedding day look. You want to look and feel like yourself, but with a little extra radiance. A natural, neutral look with a pop of color on the lips is a great option. You can also consider a smoky eye or bold lip, depending on your preferences and the theme of your wedding. Be sure to have a trial run with your makeup artist before the big day to ensure you're happy with the look.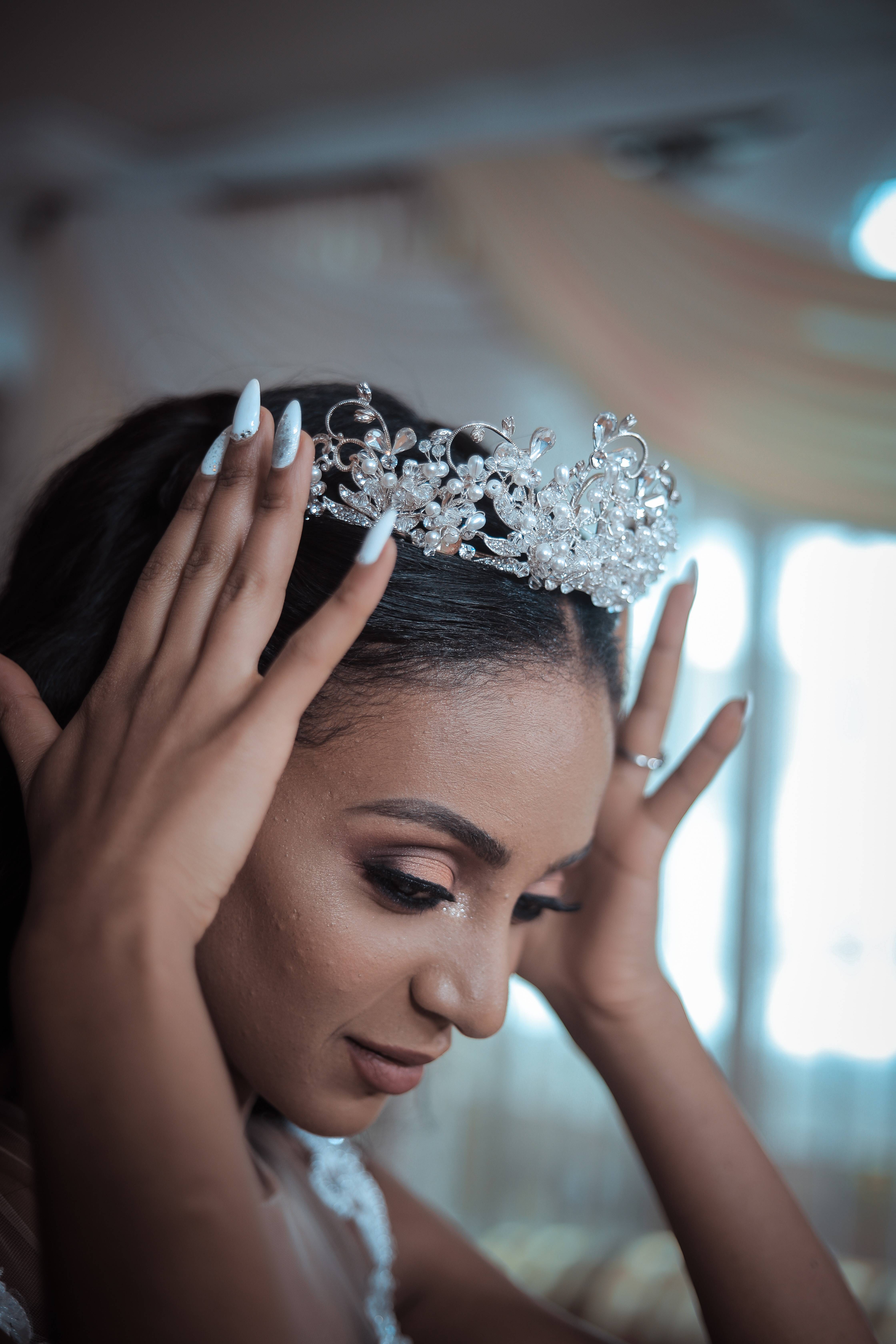 Lastly, to feel comfortable and confident on your wedding day, don't forget to take care of your skin, body and overall well-being in the months leading up to the wedding. A good skincare routine, regular exercise and healthy diet can help you look and feel your best on your big day.
In conclusion, choosing a wedding day look is a personal and unique process, but by considering the theme and style of your wedding, experimenting with different hairstyles and makeup options, and taking care of yourself, you can find the perfect look for your special day.
When it comes to choosing a wedding day look that is personal, meaningful, and beautiful, there are no rules. You can choose whatever style you like and wear whatever jewelry you want. However, if you're looking for some inspiration and guidance on how to create the perfect look for your big day then these tips will help you every step of the way. The most important thing is that you feel confident in what you choose; after all, it should be something that reflects who you are as an individual!
Plan your wedding like a pro.