Celebrity
The Stars Aligned & Twinkle Lights Shined As Jacquelyn and Dave Say "I Do"
Jacquelyn and Dave had one dream about their wedding – to tie the knot under a tree! What they had in mind was a bridal celebration that would depict their personalities, i.e. a spot that "was so them". Considering they are lovers of nature and all things related to awe-inspiring sceneries, they needed a place that takes away breaths. That is how they started a new chapter of their love story in a one-of-a-kind ranch nestled in Santa Susana Mountains, LA.
Jacquelyn, or Jacqs as she is lovingly called, is one of the founders of Sweat & Tell and an energetic spirit whose wedding we have waited impatiently for. We have followed her bridal preparations tirelessly, and the outcome has been fascinating. And if we are speaking honestly, we did not expect anything less. Her style is impeccable, so her wedding day was simply a treat for the eyes. 
From the venue the couple chose to the tiniest details of the ceremony and reception, this wedding was filled with high energy, lots of fun and laughter and a unique, intimate, unforgettable experience.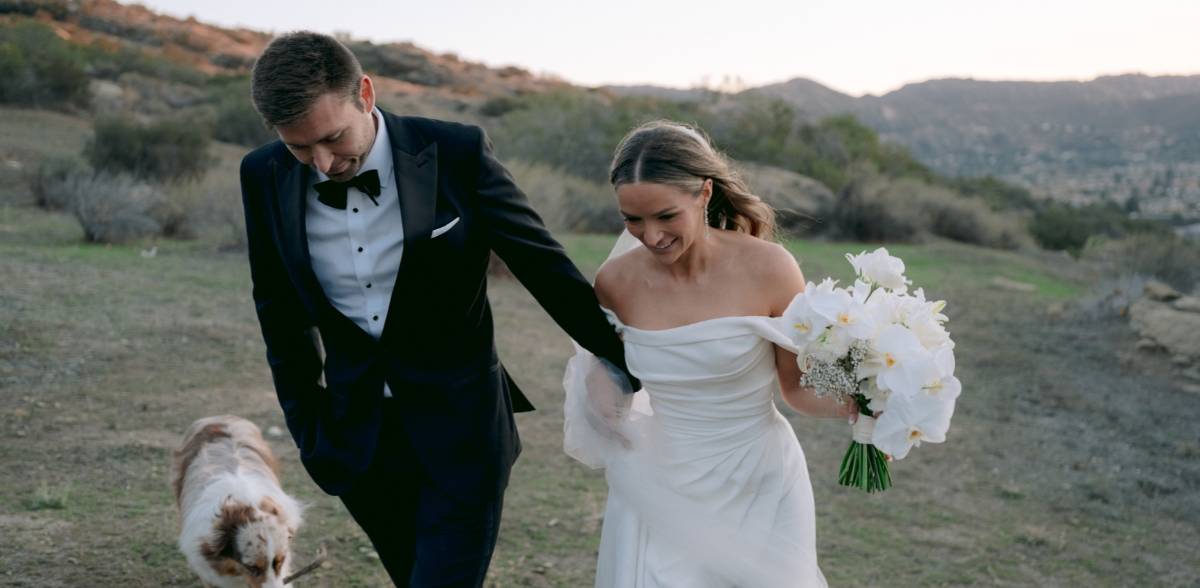 A Peek Into Jacquelyn And Dave's Love Story 
There is nothing sweeter than the beginning of a couple's journey together. Everyone's start is different, but this couple had something special in theirs. Namely, Jacquelyn and Dave knew each other from mutual friends, but they never had the chance to spend time together. 
They were connected through social platforms and sometimes participated in the same group chats because of their friends, but that was it. Both of them led busy lives, so they never got to hang out – until they met one another in a bar! 
It seemed as if fate had orchestrated their meeting at the opportune moment when both of them were in a favourable stage of their lives to embrace a relationship without reservation. There was no need for pretense or mind games – they went on a few dates and officially became a couple within a mere two weeks.
The Proposal 
Visiting her family in Northern California, Jacquelyn was pleasantly surprised when Dave managed to secure a few days off from training or a game. Seizing the opportunity, he flew over to join her, and together they embarked on a brief getaway to Napa for a single night. 
They decided to visit a winery closer to Marin – her parents' hometown. After enjoying a delightful lunch and sampling some exquisite wines, the group decided to take a leisurely stroll to a picturesque lake on the winery's premises. 
At this point, Jacquelyn's mom insisted on capturing a photograph of her and Dave with the stunning backdrop. As her mother started taking pictures, Dave surprised her by presenting a ring, dropping down to one knee, and proposing. She was over the moon!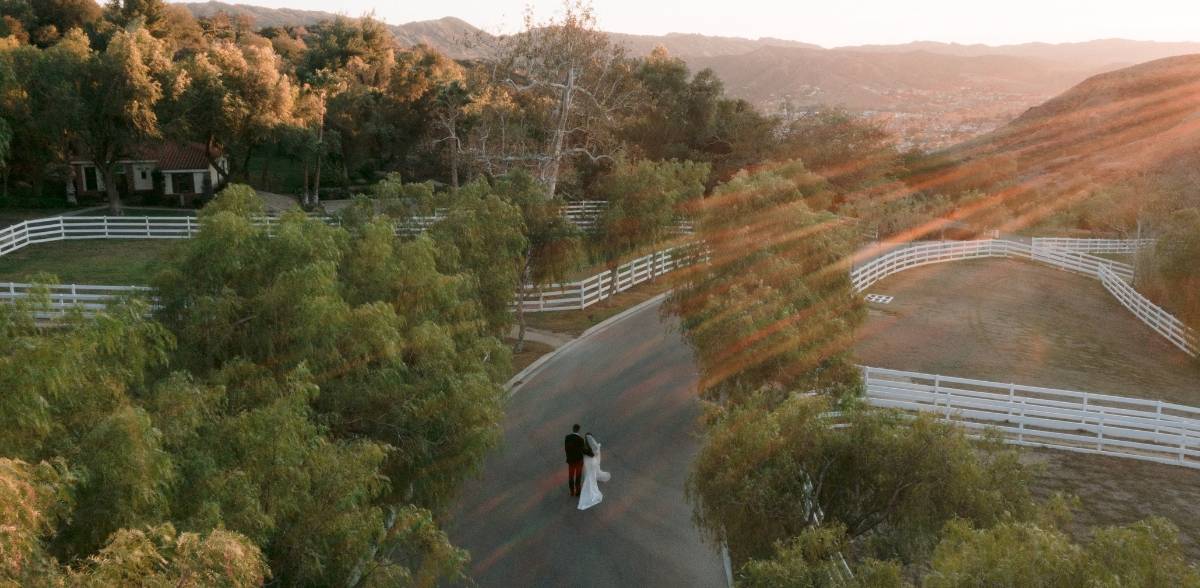 The Dreamy Wedding Venue 
Jacquelyn and Dave were very specific about the venue they wanted for their wedding. The spot they picked is stunning, but finding THE place that matched their vision perfectly was not easy for them. 
Having explored various venues in Napa and Santa Barbara, the couple initially considered these locations as potential wedding destinations. However, none of the options felt completely ideal. Recognizing their preference for a late fall or winter wedding, they realized that Napa wouldn't showcase the vines in their enchanting blooming season, and although Santa Barbara had some beautiful venues, they didn't fully resonate with their dreams.
Privacy was of utmost importance to them, desiring a venue that would create an intimate atmosphere exclusively for their guests. They are also strongly inclined towards natural surroundings, frequently expressing their desire to exchange vows under a tree. With the assistance of a hired planner, they were introduced to
Hummingbird Nest Ranch
, and it was love at first sight. 
This incredible venue enchanted them with its breathtaking vistas and natural allure. Situated in the beautiful Santa Susana Mountains, it will immediately grab your attention with its exquisite main villa, which channels that quintessential Spanish aesthetic. 
Not to mention its iconic outdoor spaces that seamlessly blend luxury, intimacy, and warmth. What is more, it has olive groves, one-of-a-kind canyon views, gorgeous fountains, lovely romantic suites, and so much more. You will feel like it has that Tuscan allure but with a unique twist. To be honest, this spot is a kind of secret getaway for modern romantic couples, but we guess the secret's out now!
The venue's natural surroundings and romantic ambiance deeply depicted their personalities. Plus, the ample space allowed for seamless transitions between the wedding ceremony, cocktail hour, and reception, ensuring a continuously engaging experience for their guests!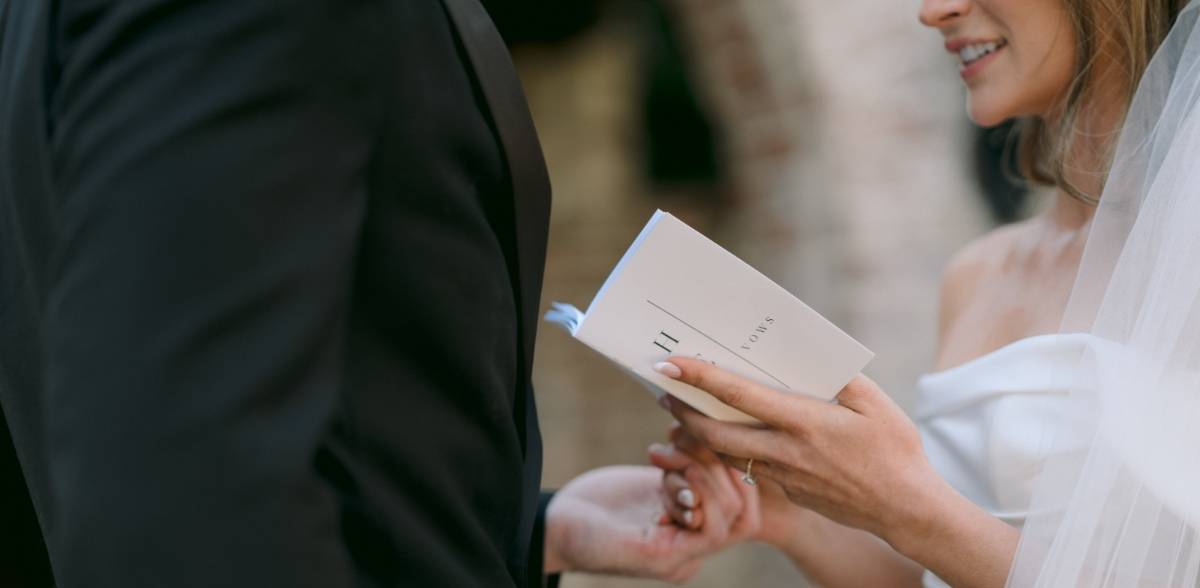 Private Vows - Saying "I Do" In Their Own World 
They found immense joy in exchanging their vows privately, relishing the feeling that they were the only people in the world at that moment. Although they had deliberated on the idea, they ultimately decided to have a private vow exchange to alleviate any time constraints and nerves. It served as a genuine reminder of the true essence of their wedding day: their profound love for one another and their lifelong commitment. While the vows were exchanged in private, their professional team captured the heartfelt moments through photographs and videos, allowing them to revisit and cherish those precious memories for eternity.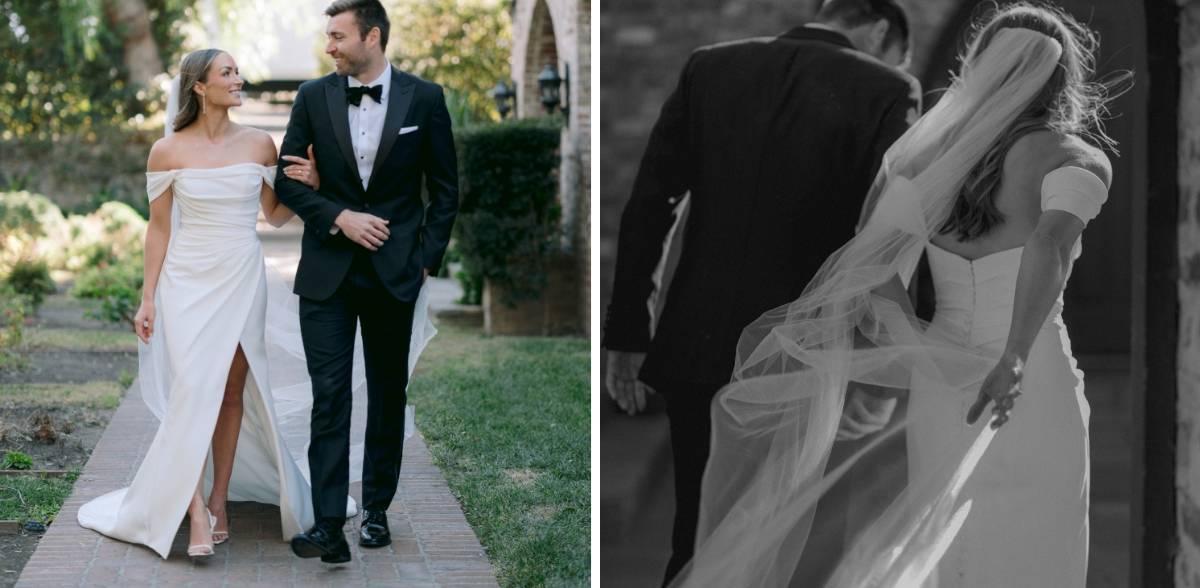 The Stunning Bridal Gown 
Jacquelyn opted for an exquisite gown designed by Ines di Santo for her wedding ceremony attire. The most incredible thing is that she found the dress three weeks before the wedding at The Bride Room boutique in Nashville. She certainly did not plan to do dress shopping three weeks before the big day, but amid her preparation processes, she felt like her original dress did not give her the feeling she wanted. So, it was back to the drawing board, and with best friends in tow, she bought a gown that suited her the way she imagined!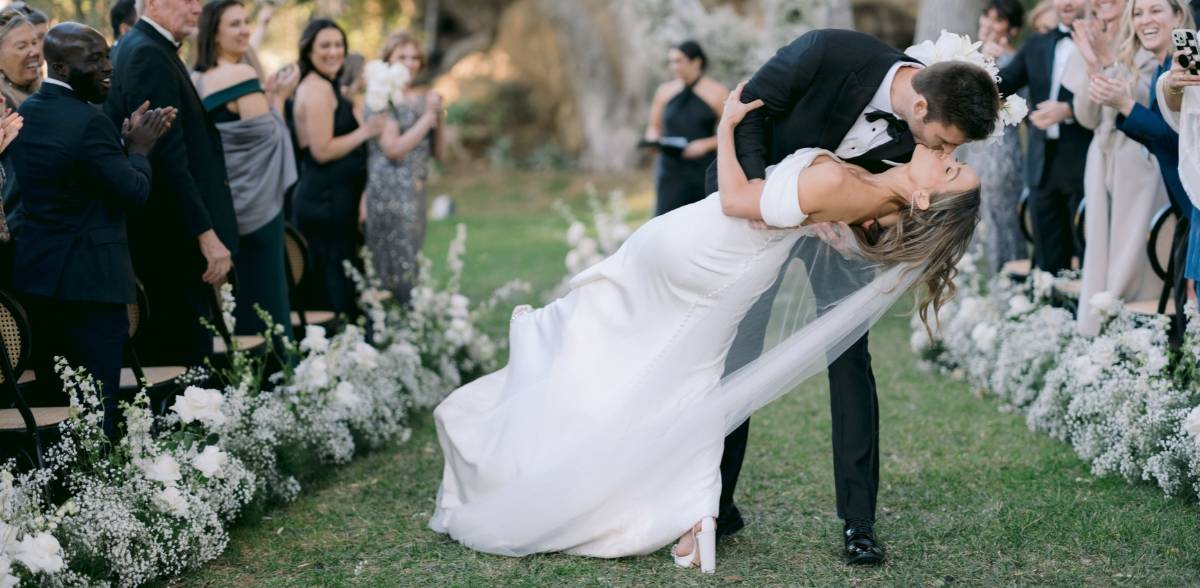 The Inspiring Bridal Decor 
The couple's vision for the event was to create an atmosphere that exuded timelessness, romance, and enchantment. They deeply admired the venue and aimed to seamlessly integrate their decor choices with its existing beauty.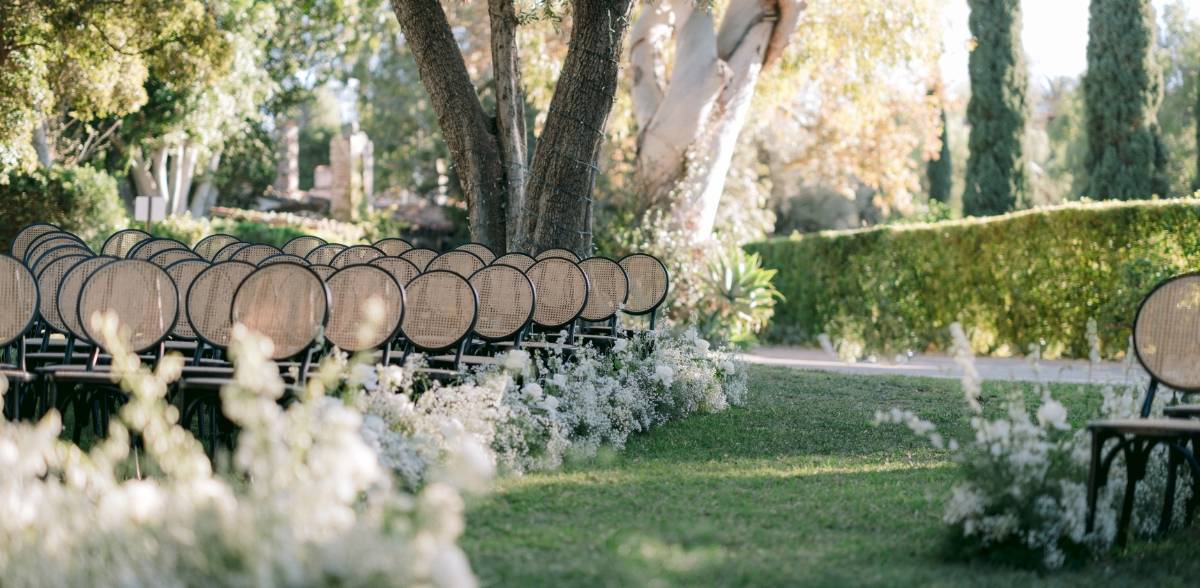 Dreamy Ceremony
When it comes to the ceremony, the natural setting was the perfect embodiment of elegance and romantic flair. The white and green florals perfectly depicted a timeless aesthetic, while the type of cane back chairs introduced a beautiful old-world feel to the scenery. 
The perfectly manicured grass laid the base for the walk down the aisle, and the flawlessly lined floral arrangements with baby's breath and white roses – along with the floral installation on the tree, made for a truly dreamy ceremony aesthetic.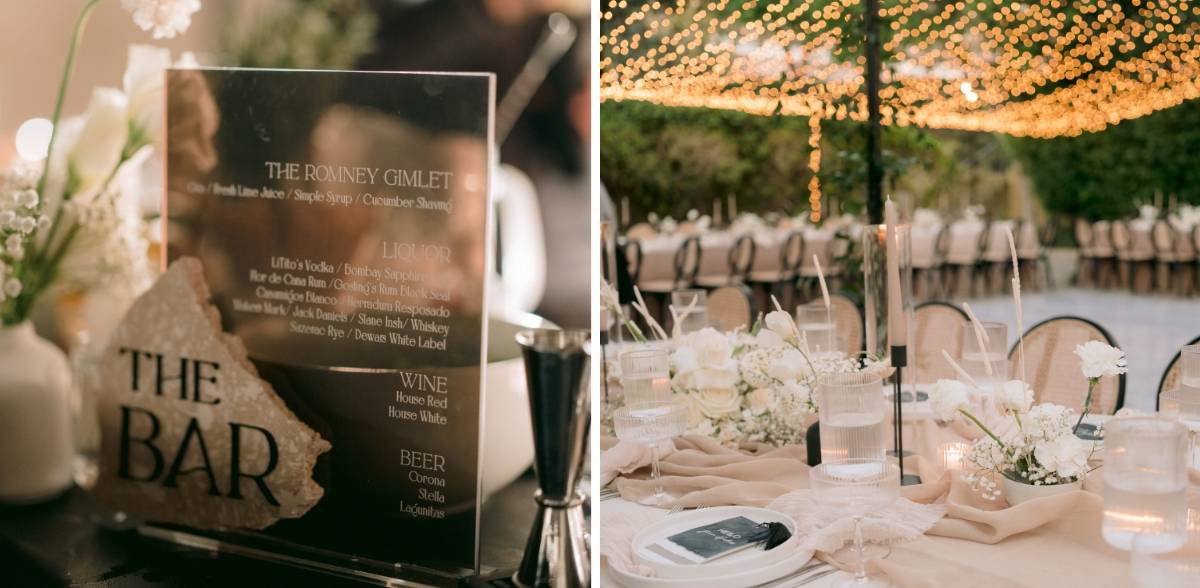 Iconic Reception
The reception was also something else! By arranging long tables around the dance floor, they fostered an intimate ambiance that emphasized the significance of each guest's presence on their special day. As the sun set, the twinkling lights and flickering candles truly brought the entire scene to life, adding a touch of magic to the surroundings.
Entertainment
The amazing couple wanted a custom mix of old and new songs to get the atmosphere pumping! Eventually, the vibe escalated to the point where the bride and her guests were doing the Limbo, and everyone got excited. The DJ also made quick transitions to keep the energy going the entire time. 
The playlist was consistent with both raunchy songs and sing-alongs and hits. The bride wanted some Taylor Swift, which obviously elevated the whole feel! All in all, in their words – our DJ killed it!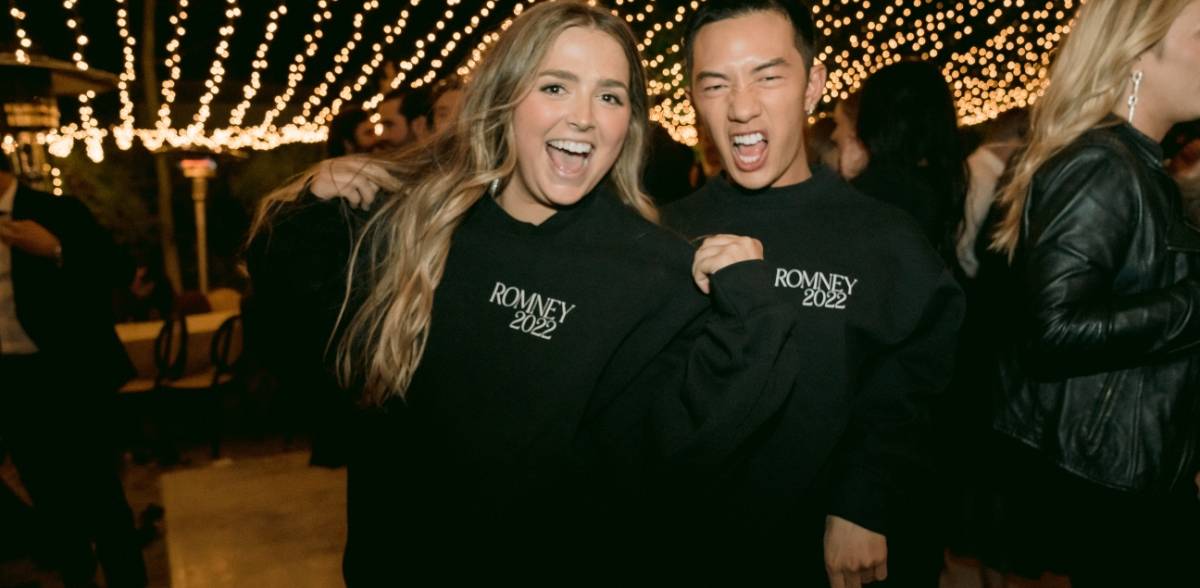 The Sweatsuits - Originality At Its Finest
Initially, Jacquelyn and Dave discussed the idea of having wedding merchandise but hadn't made any final decisions. However, during the week of the wedding, while staying at a rented house in Malibu with their close friends and family, they talked about merch options with one of their best friends, David Ko. 
He was incredibly determined to make it happen for them and took charge of designing the sweatshirts and sweatpants himself. He swiftly sent the designs to his fashion contact in Los Angeles, who managed to print them within two days and deliver them directly to the wedding venue on the big day.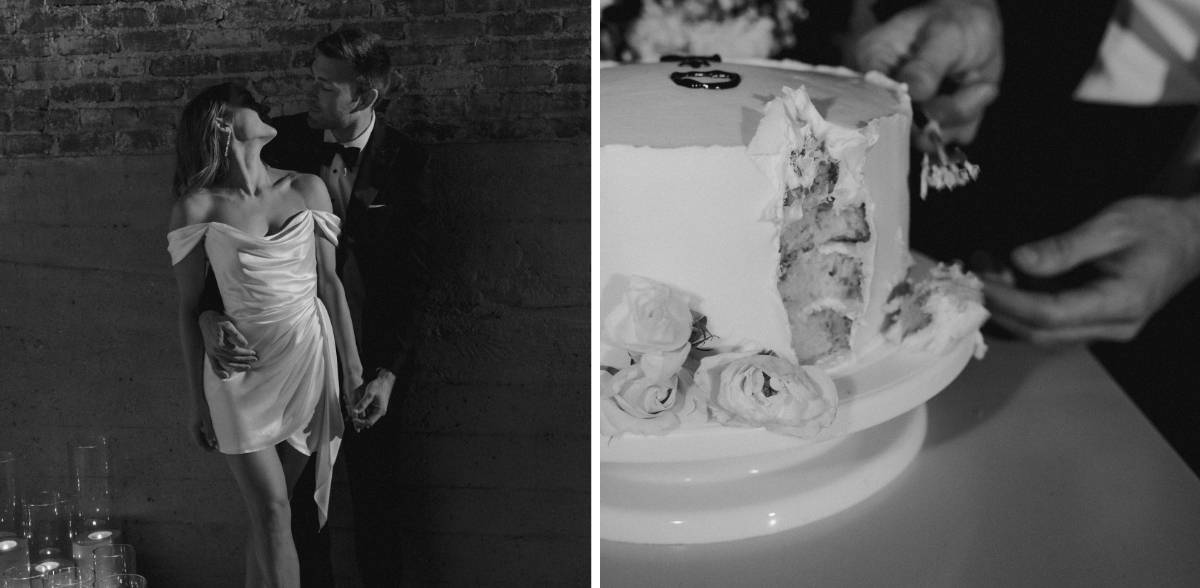 The bridal party and immediate family were provided with matching sweatshirts and sweatpants, all adorned with the "Romney 2022" logo. It turned out to be a massive hit among everyone! Toward the end of the reception, guests changed into comfy attire and danced the night away in style.
Jacquelyn and Dave's wedding day proves that fairytales can become a reality! Their big day was awe-inspiring and breathtaking, not just because of the setting but also because of the love these love birds share and spread.  
Plan your wedding like a pro.