How to Totally Nail Your Manicure on the Big Day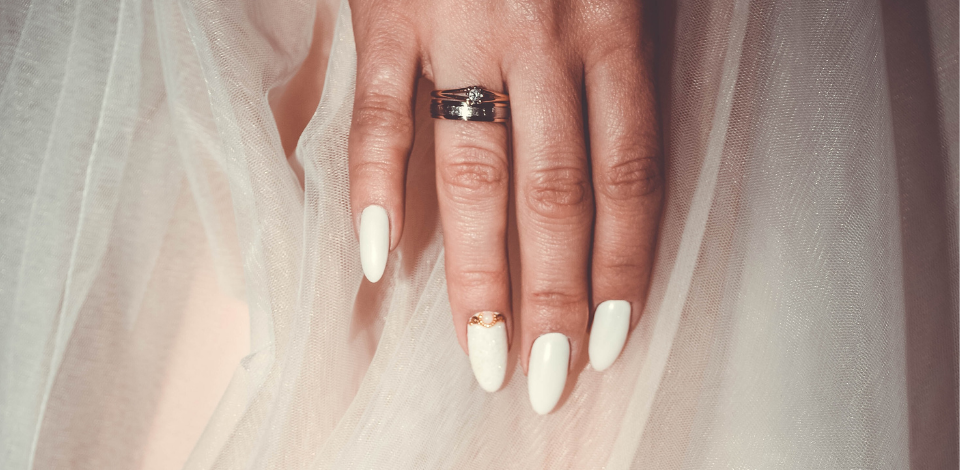 Try out different nail colors way before the big day so you can find the right one. You don't want to grab any shade at the last minute and later regret how it looks. "Not all pink polishes are the same on every skin color, so it is essential to try out the nail color a couple weeks before to make sure you like the color," says Abby Ferguson, nail technician and licensed esthetician at SpaBlue at Del Mar, who suggests having your spouse-to-be taking a few photos of your hands to see how your manicure might look in wedding photos. 
Do get your nails in shape. 
What's your ideal mani? Rounded tips? A square shape? Or something pointy? "Nail shapes can be very trendy," says Mylynn Nguyen, also a nail technician and licensed esthetician at SpaBlue, who says it's common to get a different nail shape for the wedding than the shape you typically wear. 
Don't go too bold. 
Even if you love bright pinks and bold blues, hold off on showy colors for your bridal mani. Bold hues can be distracting from you, your ring, your dress and your flowers. "Lighter colors wear better and are a great compliment to any wedding colors," says Ferguson, who recommends pale pinks, neutral lacquer colors, and French Tips. 
Do make sure your mani and pedi match.
Even if you're not used to matching your mani and pedi, it's a good idea to keep your wedding nail style in sync. "It will look better in photos and give a more elegant and classic look for the bride, say Nguyen and Ferguson. "If you do want different colors for your manicure and pedicure, make sure your toenails are a darker color than the fingernails to create the best look." 
Do be ready for touch-ups. 
A smudge, a chip, or a ding can blemish your nails. Once you decide on the perfect polish, buy a bottle for a touch-up if needed. Even with a gel manicure, you probably won't need touchups, but it's best to be ready just-in-case.
Don't get a gel mani too far in advance. 
Sure, gel manicures last up to a few weeks, but that doesn't mean it's going to last if you get one two weeks before the big day. Make sure to book your manicure and pedicure appointments the day before the wedding, which will limit the chances of you doing some serious damage. 
Don't spray tan AFTER your manicure. 
You want your skin, not your nails, cuticles, and hands, to glow on your wedding day. That's why you need to be careful about using tanning products. "Avoid getting a spray tan right after your manicure or even using tinted lotion," says Ferguson, explaining, "it can discolor the light pink and white nail colors." 
Don't take a soak in the tub. 
A bath may seem relaxing the night before the wedding, but it's not a good thing for your nails...the hot water can cause your nails to chip or crack. After all the time you spent getting your nails done, that's the last thing you need to happen at the last minute! 
Don't do any house cleaning. 
While you probably won't be scrubbing the sink right before your wedding, steer clear of any house cleaning once you've gotten your bridal mani. "Hold off on cleaning, washing dishes or gardening for one to two days to keep your nails and cuticles looking their best," advises Nguyen.  
Stories you might like