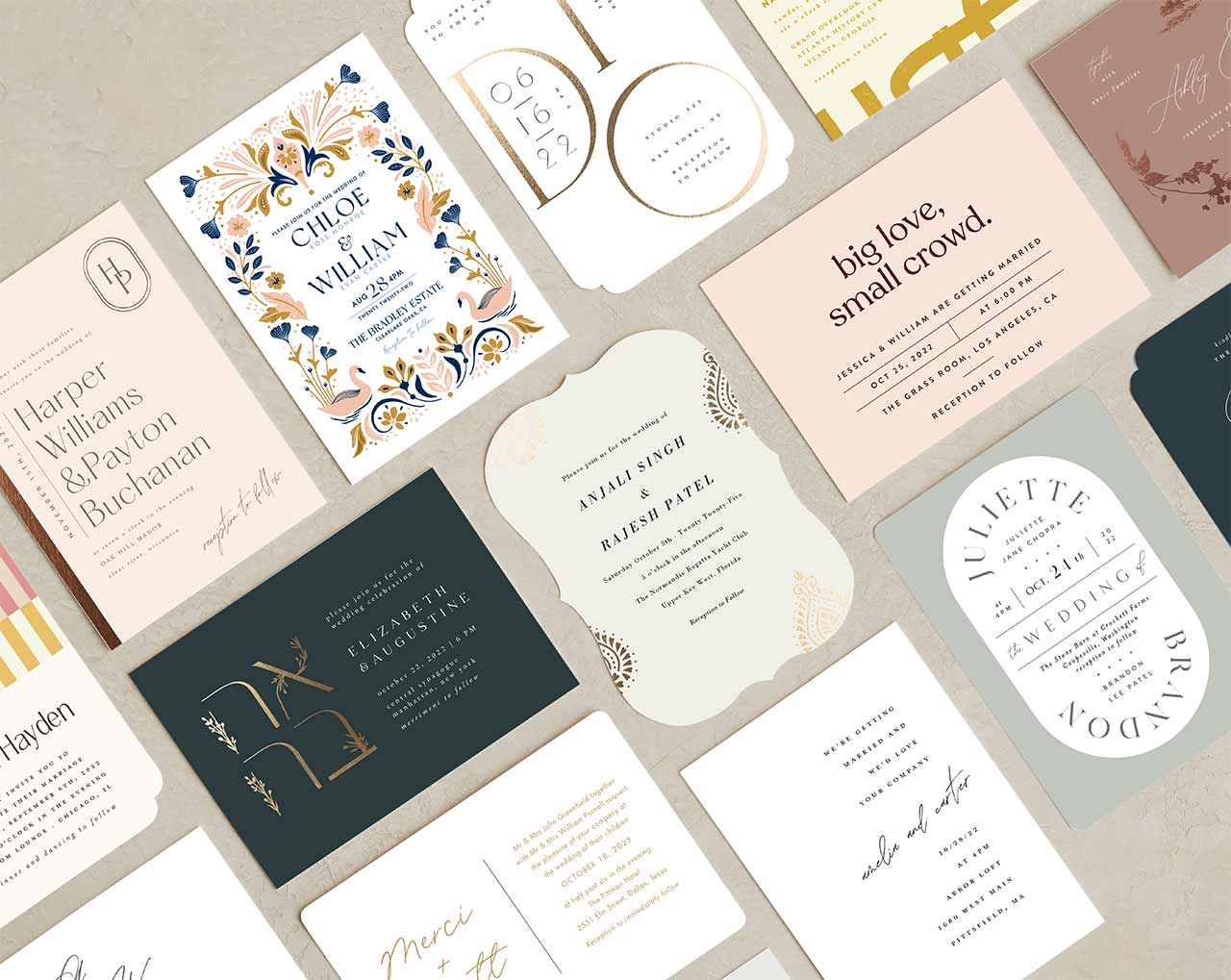 Your invitations, your way.
Completely customized, just for you.
Fully Customizable Luxe Design

Freshly Sourced Designs
Hundreds of unique designs, freshly sourced from Minted's marketplace of independent artists.

Completely Customizable
Customize almost any element of your stationery with unlimited rounds of proofing with your dedicated Minted designer.

Luxe Paper and Printing Types
Choose from luxurious materials and printing techniques like real, hand-pressed foil or letterpress designs to bring your vision to life.

Full Service Options
Work with a member of Minted's Wedding Concierge team to find your perfect design and learn how to bring your stationery to life.
Wedding Website
Love at First Site
Set the tone for your celebration and ensure your guests can easily find all the important details in one place with a FREE wedding website. Every website design has matching stationery so you can carry your perfect look through every element of your day.
Schedule a Consultation
Meet Your Personal Wedding Concierge
Let us help you find your unique design. Schedule a 30-minute consultation, tailored to your wedding needs.

Custom Design
If You Can Dream It, We Can Bring It to Life
From watercolor illustrations and custom maps, to a full suite from scratch—whatever your vision, bring your custom wedding stationery to life with the help of a dedicated Minted artist.
Your Complete Wedding Invitation Suite
Everything you need to announce your big day with style and ease. Customize hundreds of designs and create a complete paper suite.
Marketplace of Artists
Every Minted design is created by an independent artist from around the world. Designs are submitted to a challenge and voted on by real customers. Minted sells only the best of the best designs.
Elevate Your Invitation Suite with These Luxe Add-ons
Shop Ceremony & Reception Essentials
Achieve your perfect wedding look with day-of designs that delight, created by independent artists.

Get More with Minted
Enjoy 30% off save the dates and 20% off all Minted products. Plus, free shipping, year-round. Save on every special detail, from save the dates to day-of essentials.
Stationery Videos
The Ultimate Wedding Stationery Guide
Everything you need to know about designing your wedding website, stationery and more.
Personalized Gifts
Design your own custom-made gifts for the wedding party or newlyweds.
Frequently Asked Questions
What is the Loverly & Minted Partnership?
Who is the Minted Wedding Concierge?
What does the Minted Wedding Concierge help with?
How do I set up a consultation with the Wedding Concierge?
How do I order the Minted Free Wedding Sample Kit?
What comes in the Minted Free Wedding Sample Kit?
What is the Minted More Membership and how much does it cost?
If I have an issue with my Minted order, who should I contact?
Do Loverly users receive a special Minted discount?
Plan your wedding like a pro.